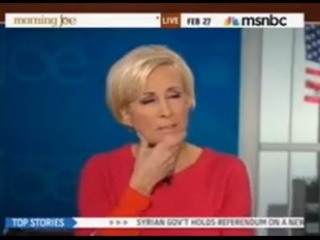 On Monday, Morning Joe's Mika Brzezinski weighed in on GOP presidential hopeful Mitt Romney's recent economic speech at a mostly-empty Ford Field stadium in Detroit, Michigan by opining that "there's something wrong with his people."
Romney gave his speech to an audience of just over 1,000 people at a stadium designed to house a crowd of 70,000. The candidate has also drawn attention for sharing the fact that his wife, Ann, "drives a couple of Cadillacs," an unscripted statement that likely won't help Romney further endear himself to voters during tough economic times.
Romney later explained the remark about the multiple Cadillacs by noting that this wasn't exactly new information. "If people think there's something wrong with being successful in America," he added, "then they'd better vote for the other guy."
RELATED: Chris Wallace Asks Panel: If Mitt Romney Loses Michigan, Will Another Candidate Enter The GOP Contest?
"I've got to go to you," Brzezinski said, turning things over to guest Dan Senor. "There's something wrong with his people." Showing him pictures of the small stadium crowd, she added, "You don't do this. You don't do this when you're in a fight for your life for your home state in a primary."
"I'm sure some folks around the table would disagree with the substance of his speech he delivered that day," said Senor. "But it was actually pretty powerful and pretty transformative."
"There's something wrong with his people," Brzezinski repeated.
Nobody would end up taking in, the panel argued, any of the tax reform and entitlement reform he had proposed that day, "because," Senor noted, "the cynical media is focused on the blocking and tackling and nuts and bolts of campaigns rather than saying this is a mistake, but let's look at the substance."
"Two things," said former Pennsylvania governor Ed Rendell. "Number one, it violates political rule number one. Never have an event in a room you know you can't fill. Sixth graders running for office should know that. And the second thing is, it makes people wonder. Campaigns are important because people look at how you run a campaign and say, well, gosh, if he can't run a campaign, and if his people aren't smart enough to do this…"
Senor wasn't buying it. "I don't think most voters glean from that," he said. "I think we do around this table. i don't think most voters actually sit there saying, how did the advance team make that mistake?"
Have a look, via MSNBC:
Have a tip we should know? [email protected]