Mika Brzezinski On Paycheck Fairness Act Block: 'Republicans Just Want To Say No'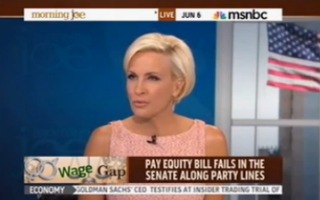 On Wednesday, Morning Joe host Mika Brzezinski and panelists discussed yesterday's blockage of the Paycheck Fairness Act.
She kicked off the segment by quoting President Barack Obama's reaction to yesterday's events. "It is incredibly disappointing," he had said, "that in this make or break moment for the middle class, Senate Republicans put partisan politics ahead of American women and their families. Despite the progress that has been made over the years, women continue to earn substantially less than men for performing the same work."
RELATED: Sen. McCaskill On Lack Of GOP Support: Mitch McConnell Figures Out What Amendments Can 'Make My Life Miserable'
"I have to tell you, they have credibility," said Brzezinski of the Obama White House. "They have history on their side. The White House has a record on their side. I don't know anyone who could say this is pure politics. Of course, everything is political. But not pure. They have started from the get go, this presidency has been working on this and Republicans just want to say no."
"I think the Obama people believe what they are trying to do here," added Howard Dean. "The timing of the vote is pure politics. What's going to happen is about three, four months from now, there's going to be ads showing all these guys who are all these senate races around the country, which are much closer than anybody expected, that they voted against equal pay for women. It's a crusher. The most influential voting group in the entire company."
Dean felt the decision was especially crushing for Scott Brown. "This is a terrible vote for him, he told the panel. "This may put Elizabeth Warren over the top in a dead heat race. I am shocked at that."
Politio's Mike Allen shared that Obama adviser Valerie Jarrett "went on Twitter just on this issue, her first Tweet was on this issue." they are going to keep talking about the smarter politics for senate republicans would be to say, fine, vote for it, take away the issue, hand the club off to someone else. but now they have given democrats a great weapon.
"This is obviously not a vote [Republicans] are particularly proud of," added Willie Geist.
After noting that even an imbecile would be able to understand what this bill is all about (its title being, of course, rather self-explanatory), Harold Ford, Jr. agreed with Dean that "the real loser last night was Scott Brown."
Have a look, via MSNBC:
Have a tip we should know? tips@mediaite.com