Mika Brzezinski On Rick Santorum: 'I Don't Agree With Anything He Says, But I Like The Guy'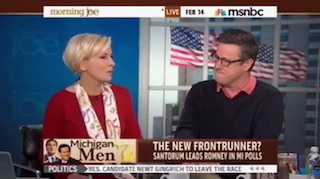 Yesterday on The View, Barbara Walters admitted that, while she had problems with Rick Santorum, she understood what he meant with some of his controversial comments on modern day feminism. Today, over on Morning Joe, Mika Brzezinski said something similar, stating that, while she didn't ever agree with Santorum, she liked him. Clearly all of television's most powerful women are uniting in their assessment that Rick Santorum is totally wrong about everything but, hey, at least he's not a jerk or nothin'.
Brzezinski wasn't the only one agreeing that maybe Santorum isn't the worst scum of the earth. Joe Scarborough pointed out that the candidate had handled himself well in responding to offense some of his comments had caused. And Willie Geist pointed out that he seemed much more relatable than ol' dog on the roof Romney.
But Brzezinski was the most full-hearted in her half-hearted support. Here's her take on Santorum's response to a question from David Gregory about seemingly anti-feminist sections of his book:
"He had no problem with that question. I was fascinated by that question. I've wondered about him and the whole concept of working women and family. But stylistically, which is a part of the game, Willie, he has something that Mitt Romney doesn't. There is a connect. I mean, I don't agree with anything he says, but I like the guy."
This may not sound like much but, when the candidate selection is as awful as it currently is, perhaps this is exactly the wave of wishy washy shrugs that Santorum can ride all the way to the White House!
Watch the clip from MSNBC below:
(h/t NewsBusters)
Have a tip we should know? tips@mediaite.com