Mika Brzezinski Reviscerates Paul Ryan Misleading On Farm Bill By Asking 'Are You Happy?'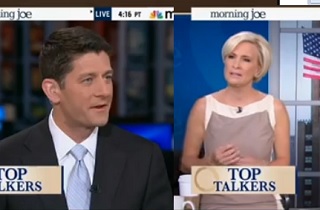 Anyone who watches Morning Joe with any regularity knows the game; host Joe Scarborough presides over a cast of "diverse" viewpoints, and Joe's Republican POV always wins. It's the trade viewers make to get a bead on politics for the day that doesn't come from a high school locker room. On Monday morning's Morning Joe, though, the game was a little bit too rigged, as the crew interviewed Rep. Paul Ryan on the failure of the farm bill, and the best challenge to his distorted account was Mika Brzezinski asking him "Are you happy?"
The failure of the House of Representatives to pass a farm bill is not some kind of CSI: Washington-worthy mystery. House Republicans managed to find 40 Democrats who were willing to go along with $20 billion in cuts to the Supplemental Nutrition Assistance Program (SNAP), also known as food stamps. About a quarter of Republicans opposed the bill because they wanted to cut more from SNAP. Republicans could have passed the farm bill without a single Democratic vote if they had been able to agree, but since they didn't, they were relying on getting those 40 Democrats to stay on board.
Then, the Republicans, including those who voted against the final bill anyway, did this:
The lawmakers did pass two amendments, one to allow states to drug test food stamp applicants, and the other to require food stamp recipients to meet federal welfare work requirements.

Mr. McGovern said that the amendments would cause two million people to lose benefits. "The price of a farm bill should not be making more people hungry in America or criminalizing people who need help," he said.

An angry Representative Rosa DeLauro, Democrat of Connecticut, called out Republican members of Congress who had gotten farm subsidies while voting to cut food stamps.
On Morning Joe, co-host Mika Brzezinski, the ostensible counterweight to Scarborough, started in on Ryan by asking him to "Tell us what happened with the farm bill, because it really doesn't matter what the priorities are if nothing can get done."
Ryan explained that since he voted against the farm bill, it was all the Democrats' fault. "Our leaders brought the bill to the floor based on the commitment that Democrats from the agricultural districts made, and during consideration of this bill on the floor, they reneged on the commitment of the 40 votes they promised, and the bill went down."
Brzezinski wasn't about to let that stand. Hit him with those poison-pill amendments, Mika!
"Only Democrats who reneged on their promise?" she asked, as sad trombones spontaneously played themselves across America.
Regular contributor Mike Barnicle swooped in to save the day, though, asking Ryan for specific reasons he voted against he farm bill. Ryan cited, at length, subsidies to big agriculture concerns, and added a little tiny bit on "reforming" food stamps (which no one on the show ever bothered to identify as SNAP, because FOOD STAMPS!), which Barnicle would surely point out is just doublespeak for gutting SNAP even worse than their bill already did.
Or he could ask Ryan why we don't handle food stamps separately, which is obviously because the farm bill is the only thing that keeps SNAP from being completely gutted. Ryan drooled at the prospect. "Good question!"
After Barnicle called the "food stamp amount minimal," Ryan answered that "83% of the farm bill is food stamps. When you think farm bill you think farmers. 83% of that spending is the food stamp program. We should treat the food stamp program on its own as its separate program, and reform it."
"Why don't we?" Barnicle asked.
Ryan, for his part, finally answered a question honestly. "Because the people who are for food stamps and aggies, those who try to merge these things because they have a vote coalition that keeps the status quo going. What I've said, if you want to change the status quo, which I do and the farm programs and the food stamp program separate the two and focus on them separately. Those who are into the status quo don't want that to happen, and that's the problem we have."
The status quo he's referring to includes people not starving.
After another minute or so of unchallenged Paul Ryan, Mika Brzezinski summd up the entire interview in one question. "He looks good," she said, before turning to Ryan and demanding "Are you happy? Are you happy?"
"I am a happy person," Ryan happily replied.
Unless you want to watch one of the broadcast networks' barely-news morning shows, you've got three choices in the morning, two if you don't count Fox and Friends, which I don't. because those viewers aren't up for grabs. I like a heavy dose of politics with my morning news, and CNN's New Day isn't really fitting that bill so far, so I'm willing to put up with a lot in order to get it.
But this isn't some kind of thing that ThinkProgress or Ezra Klein dug out of an obscure bill and strained to push out a lump of outrage. This is the obvious stuff. This is the stuff that any political commentator needs to be able to look at and explain to viewers. If a guy strikes out, you don't say the pitcher failed to deliver the promised number of balls, or people will know you're lying, and they won't watch your show. Get it together, MJ.
Here's the clip, from Morning Joe:
Have a tip we should know? tips@mediaite.com