Mika Brzezinski Tears Into Reince Priebus' 'Disgusting' Obama Comments: 'You Made A Fool Of Yourself'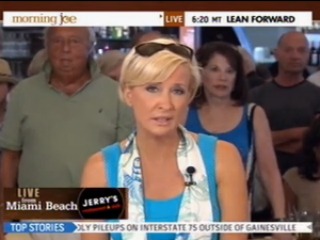 Morning Joe host Mika Brzezinski took on RNC chair Reince Priebus' recent comparison of President Obama to the Italian captain who abandoned his sinking cruise ship, saying her guests wouldn't be responding to it this morning and calling the comments "irresponsible and despicable."
RELATED: Jake Tapper Calls Out RNC Chairman For Comparing Obama To Italian Ship Captain
She then welcomed Georgia Rep. Jack Kingston and DNC chair Debbie Wasserman Schultz to the show, along with her MSNBC colleague Chris Matthews.
"I mean, really," said Brzezinski, "Do we need to talk about that comment by Reince Priebus? Who I like a lot. But that was just absolutely wrong. That just lowered it even lower."
"It's the politics of contempt," Matthews agreed.
"That was disgusting, I'm sorry. Take it back," Brzezinski continued, placing the blame on the RNC as a whole:
You all screwed up in a big way. You all sat around in a room and said, "Oooh! This would be so cool to say. Hahaha." You slapped your knees and then you went on the air and then you spit that out, you vomited it out and you made a fool of yourself. Are we done? Does anyone want to add?
Kingston, however, felt Priebus' comments were his own, and not necessarily reflective of some group effort or plan by the Republican National Committee.
Wasserman Schultz, meanwhile, pointed out that, when Priebus was offered the opportunity to back away from his comment, he merely doubled down. "We're talking about families who still have loved one missing," Wasserman Schultz said.
Watch, via MSNBC:
Have a tip we should know? tips@mediaite.com