Mika Brzezinski On Fox News' Romney Interview: 'They're Treating Him Terribly' (Update)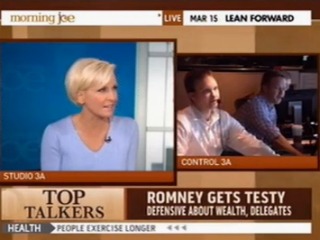 Update: We reached out to Fox News, which explained that the segment block had come to its end (hence a "hard break" – which means an abrupt end to a segment to allow for break), but that host Megyn Kelly offered Romney the opportunity to return for the next block.
—
On Thursday, the Morning Joe team took a look back on yesterday afternoon's America Live interview with Mitt Romney, where host Megyn Kelly explained that she had to cut off the GOP presidential hopeful at the end of a segment due to an encroaching "hard break." While they had mixed feelings concerning some of the responses Romney had given during the interview (panelist Donny Deutsch rather amusingly noted that Romney doesn't "lean forward"), they seemed to be most taken aback by how the interview ended.
"Hard break," they joked. "Hard break. What are you going to do?"
Host Mika Brzezinski explained that they rarely listen to the folks in the control room. (Whom viewers got to see briefly. Say hello to the Morning Joe Control Room, everyone.) "We don't listen to them, right? We just stay on with an interview," particularly "if we have a presidential candidate."
RELATED: Romney Responds To Megyn Kelly's Interrogations: 'Megyn, Guess What. I Made A Lot Of Money.'
"We don't need Starbucks," Deutsch joked.
"That was rude," continued Brzezinski. "That's not his fault. Was that supposed to play Mitt being awkward, as well?"
"They're treating him terribly," she concluded.
Have a look, via MSNBC:
Have a tip we should know? tips@mediaite.com