Mika Brzezinski Tired Of Etch-a-Sketches: 'Get These Clowns Off The Bus' And Let Romney Take On Obama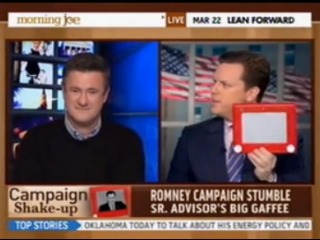 On Thursday, Morning Joe host Mika Brzezinski had just about enough of her co-hosts playing around with an Etch-a-Sketch toy in "tribute" to the latest storyline surrounding the GOP candidates. In fact, she appeared to be completely "over" the entire story… and contraception, and grits.
"I don't think we'll be talking specifically about the Etch-a-Sketch," said an awfully optimistic Willie Geist. "But as with all these other Mitt Romney gaffes, they play into something that people already believe about him, which is that he's a 'shape shifter,' that he blows with the wind, that he's Silly Putty; choose your metaphor, whatever he is."
"Or perhaps it's been such a freak show," offered Brzezinski, "such a freak show, that, finally, get these clowns off the bus and let Mitt Romney take on President Obama and have a real conservation."
RELATED: Etch-A-Sketch-y: Romney Adviser Compares Campaign To Erasable Toy On CNN
Joe Scarborough wanted none of it. "Mika!" he said, jokingly. "I'm not in Italy, ok? So don't go ahead and bring the Red Brigade into the studio."
Romney's rival candidates "seized" on the Etch-a-Sketch comment, Brzezinski noted, "because they have nothing else to do." (The studio loved it!)
The Washington Post's Jonathan Capeheart noted a pattern. Every time Romney wins a major victory, he said, "something always happens that veers him off course and he ends up talking about something that he really doesn't want to be talking about." Scarborough agreed and asked that the candidates just keep things quiet for a while.
At the end of the day, the panel agreed that — all talk of toys and delicious Southern cooking aside — Romney will be the last GOP candidate standing.
Have a look, via MSNBC:
Have a tip we should know? tips@mediaite.com