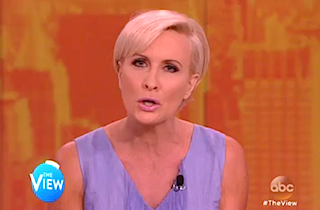 Much has been made over the last several weeks about Hillary Clinton's reluctance to answer any questions from the press as she embarks on the beginning of her 2016 presidential campaign. The New York Times has begun publishing questions they hope she might answer someday and the Washington Post is counting the minutes since she last answered a media inquiry (31,649 as of this writing).
So, when Morning Joe's Mika Brzezinski appeared on The View Wednesday to promote her new book, Knowing Your Value: Women, Money, and Getting What You're Worth
, the first question Nicolle Wallace asked her was about Hillary Clinton's relationship with the media.
"I just think there are some interesting, tough questions that need to be answered, and I find it frustrating that it's very hard to get over the moat," Brzezinski said, which she described as "the Clinton world" in which "you're either inside the moat or you're outside the moat."
Brzezinski said she believes there are two potential strategies at work within the Clinton campaign. On the one hand, her advisers could say, "hold all the good stuff until the race really heats up."
But in this case, Brzezinski asserted, "I would say let her go. She's capable of answering the questions. Get out of her way. Bill, get out of her way. Staff, get out of her way. Let the woman talk! Because when she does, she's really good."
"So I like her, but I don't like what I see happening," she added. "But listen, it's their call. She doesn't have to answer anything if she doesn't want to right now, but she will be asked."
In other words, Hillary Clinton's refusal to speak directly to the media is everyone's fault but her own.
Watch video below, via ABC:
[Photo via screengrab]
— —
>> Follow Matt Wilstein (@TheMattWilstein) on Twitter
Have a tip we should know? tips@mediaite.com