Mika Brzezinski Tries and Fails to Get STL Police Rep to Walk Back 'Dead Cops' Comment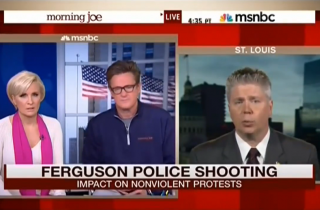 When grilled on the subject by Morning Joe, a St. Louis police rep refused to walk back his earlier comments that Ferguson protesters' ultimate aim is for cops to die.
St. Louis Police Officers Association spokesman Jeff Roorda told Fox & Friends Thursday morning that the shooting of two police officers in Ferguson, Mo., was part of the ongoing protest's goals all along: "Dead cops."
Morning Joe co-host Mika Brzezinski attempted to confront Roorda for that comment, telling him, "There are a lot of protesters out there who want to protest peacefully and who want change and have legitimate concerns." She asked: "Are you sure your words were exact?"
While acknowledging the peaceful elements of the protest, Roorda insisted that "the shooter or shooters were peaceful protesters until they decided to pull a gun out and try to kill two cops."
Unconvinced, Brzezinski pressed on: "I just wonder then why you would put protesters in a group of one when there are so many people that do certainly want change and have been protesting peacefully night after night after night. Are you sure that was the way to say it?"
And Roorda continued with his line: "It ceases to be a peaceful protest the minute somebody in the crowd engages in violence."
Frustrated by the exchange, Brzezinski said, "I'm trying to help you out," telling Roorda that his remarks were "ham-fisted" by lumping peaceful protesters together with the select violent ones who committed Thursday morning's awful deed.
The union rep was unmoved, however, telling Mika instead that this is a journalism problem: "A problem with the media coverage of this has been, 'Oh, my gosh, we have this isolated incident where police officers were shot.' This is an ongoing phenomenon." He later praised Joe Scarborough for one particularly supportive monologue about the situation: "I thought that tirade you went off on that morning was one of the most pleasing things i saw from media the entire episode."
Watch the exchange below, via MSNBC:
— —
>> Follow Andrew Kirell (@AndrewKirell) on Twitter
Have a tip we should know? tips@mediaite.com