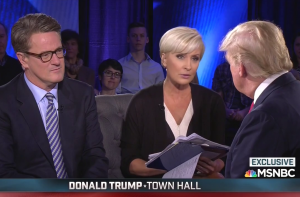 MSNBC's Morning Joe hosts Mika Brzezinski and Joe Scarborough have never said nice things about Republican presidential candidate Donald Trump, protested Brzezinski Monday morning.
Former RNC chairman Michael Steele was being pressed by Brzezinski to explain why he didn't come out strongly against Trump in the beginning of the race. "I have not come out and endorsed anything that Donald Trump has said. I have given analysis, I have stayed above it as much as I could. But now I'm at a point, you know, where supporting the nominee is difficult," he said.
But Brzezinski argued that the problems with Trump have been apparent from the beginning. "I wonder if I'm on my high horse here a little bit… but it just seems like statements every step of the way should have had you running," she said.
Steele disagreed. "This was a process that unfolded over time. I mean, you and Joe had nice things to say about Donald Trump at some point in this campaign as well," he recalled.
"No, we had nice things to say about his ability to win and about the people following him," Brzezinski insisted. "We thought it could happen."
Trump himself disagreed with that assessment back when he and the Morning Joe gang were still close. "I watched your show this morning," he told them. "You have me almost as a legendary figure. I like that."
Watch above, via MSNBC.
[Image via screengrab]
—
>>Follow Alex Griswold (@HashtagGriswold) on Twitter
Have a tip we should know? tips@mediaite.com