Mika 'Educates' Stunned Joe Scarborough with News That Merkel Spying Started Under Bush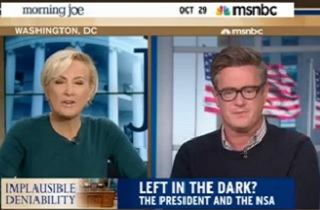 While questions still swirl around the unfolding story of National Security Agency spying on world leaders, Morning Joe viewers now at least have the answer to this burning question What did Joe Scarborough know, and when did he know it? After smugly taking President Obama apart for allegedly not knowing about the NSA's surveillance of world leaders, co-host Mika Brzezinski rudely awakened him to the fact that the spying on German Chancellor Angela Merkel began in 2002.
Scarborough tossed the conversation to Brzezinski with a jaunty "So, Mika, thank you so much for showing up. Just pop right in and defend the President, because God knows he needs somebody defending him this morning, given all the things going on."
"Okay," Brzezinskie replied sharply, "couple of things. Started in the Bush administration, so I guess you could ask if President Bush knew, too, and put those questions to him as well."
"What started in the Bush administration?" Scarborough quizzed.
"This monitoring of phone calls," Brzezinskie replied, patiently.
"Of foreign leaders?" a taken aback Scarborough interrupted. "Because I haven't seen any evidence of that."
"Did you want me to talk? I thought we were amongst friends," Brzezinski said.
"I want you to educate us," Scarborough demanded. "What report suggests that George W. Bush tapped the phones of world leaders?"
"When did this start?" Brzezinski asked.
"Four or five years ago, about this same time…" Scarborough asserted.
Nearly in unison, Brzezinski and panelist Eugene Robinson  answered, "2002."
"The tapping of foreign leaders?" a surprised Scarborough asked.
"Yes," Mika replied, "and so you have to apply the same questions to President Bush, first of all, whether they do or do not know."
Not content with Mika's response, Scarborough turned to Robinson, asking "Gene, since you wrote on this, help me out. Is there evidence that George W. Bush had the NSA tap the phones of our top allies in germany? Or France or — is there evidence of that?"
A perplexed Robinson answered "Reports in my newspaper, and in other newspapers from the reporters who are well sourced in this, say that this program of, like, you know, spying on your friends started in, like, 2002."
In fact, the 2002 start of the monitoring has been extensively reported for several days, and former Bush Press Secretary Dana Perino has commented on the report. When reached for comment, an infant who was literally born yesterday said "Yeah, I knew that. Doesn't everyone?"
To be clear, the fact that this program started under George W. Bush isn't necessarily a great defense of President Obama, but this Morning Joe clip is remarkable in that, unlike most news programs, it features news being broken only to the program's host.
Here's the clip, from Morning Joe:
Have a tip we should know? tips@mediaite.com