Immigrant Melania Trump Asked: Has Your Husband Gone Too Far? 'I Follow the Law'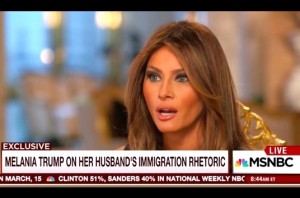 As part of their infinite-part series on Republican presidential frontrunner and recent Nevada caucus steamroller Donald Trump, Morning Joe presented a one-on-one interview Wednesday morning featuring co-host Mika Brzezinski putting the tough questions to First Lady hopeful Melania Trump. In one promising segment, Brzezinski asked Mrs. Trump to reconcile her husband's harsh assessment of Mexican immigrants and others with her own status as an immigrant. Melania offered the sort of empathetic response you would expect:
MELANIA TRUMP: No, I don't feel he insulted the Mexicans. He — he said illegal immigrants. He didn't talk about everybody. He talked about illegal immigrants, and after a few weeks — like after two weeks giving him hard time and bashing him in the media, they turned around and said, you know what, he's right. He's right what he's talking about. And he opened conversation that nobody did.

MIKA BRZEZINSKI: But you're an immigrant.

TRUMP: Yes.

BRZEZINSKI: Do you ever think he's gone too far?

TRUMP: I follow the law. I follow the law the way it's supposed to be. I never thought to stay here without papers. I had visa. I travel every few months back to the country to Slovenia to stamp the visa. I came back. I applied for the green card. I applied for the citizenship later on after many years of green card. So I went by system. I went by the law and you should do that. You should not just say, okay, let me just stay here and whatever happens happens.

BRZEZINSKI: When he talked about a ban on Muslims, which can't happen for so many reasons, I mean, do you ever think he's going too far with some of this? Do you ever worry about it?

TRUMP: Well, what he said is it will be temporary and it's not for all the Muslims. It's the one — We need to screen them who's coming to the country. He wants to protect America. He wants to protect people of America so we have a country and keep the country safe. That's very important to him.
See, Mexican illegals? All you have to do is find a stray billionaire to send you back home every few months until you can get your paperwork straightened out. And for all you Muslims, don't worry, the ban will only be temporary, just until Americans are no longer scared of terrorists. You probably don't even need to unpack.
This is an opinion piece. The views expressed in this article are those of just the author.