Mike Allen On Clinton's 'Off Message' Remarks: Obama Campaign Unhappy He's 'Soaking Up All The Oxygen'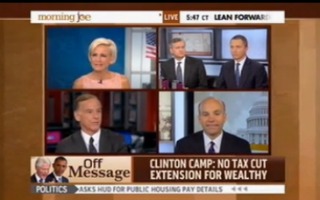 Bill Clinton keeps popping up in conversation this week. Morning Joe devoted a segment to the former President, who has raised some eyebrows for veering "off message" while publicly endorsing Barack Obama.
Clinton, you'll recall, recently Clinton defended Mitt Romney's Bain past, calling his business career "sterling" despite the Obama campaign's attempts to cast Romney's career experience in a negative light. And, just yesterday, he told CNBC that Congress should extend all tax cuts.
RELATED: Mitt Romney Campaign Creates Fake Bill Clinton Twitter Account: @Bill_Clinton12
"I don't understand how the press would play this stuff up," said panelist Harold Ford, Jr, who had made headlines of his own after his positive comments regarding Bain were used in a Romney campaign ad. "What he said there is what President Obama and the White House have been urging all along. I don't understand why anyone is up in arms about what the President said there. For that matter, even what he said on the Piers Morgan show when I re-watched it."
Howard Dean agreed that this was "much ado about nothing," opining that Clinton hadn't actually ventured too far off message as a Obama supporter.
Brzezinski noted that Clinton's team released an announcement clarifying his stance and reiterating that he "does not believe the tax cuts for the wealthiest Americans should be extended again."
Host Willie Geist then asked the panel whether he thought it wasn't worth it to use this opportunity to take a broader look at Clinton's role in the efforts to re-elect Obama. "No, I don't," replied Dean. "Truly, I don't." He added that it isn't as if it's uncommon for the press to make much out of what is essentially a non-story, alluding to his own personal experience with this phenomenon.
Politico's Mike Allen had a much different, and much more colorful, take on the matter. "So this is the fourth ransom note in three weeks from someone who's run afoul of the Obama campaign," he said. "The table may not be unhappy about President Clinton's remarks, but I can tell you the Obama campaign is." He cited a Wall Street Journal report that the statement clarifying Clinton's take on tax cuts was prompted by a push from the Obama campaign.
Allen later added that Clinton is basically "soaking up the oxygen" with his myriad publicity-garnering media appearances lately.
Have a look, via MSNBC:
Have a tip we should know? tips@mediaite.com