Mike DeWine On Switching Endorsement From Romney To Santorum: 'There's No Enthusiasm At All' For Romney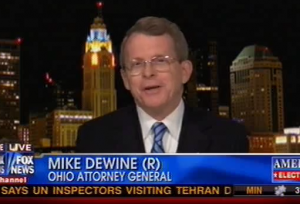 Mike DeWine, a former Republican Senator from Ohio, now serving as the state's Attorney General, was a guest on Fox & Friends Tuesday morning and was asked to explain why he switched his endorsement from Mitt Romney to Rick Santorum.
Host Steve Doocy actually pointed out that DeWine had first endorsed Tim Pawlenty, before Pawlenty dropped out, causing him to endorse Romney last fall. "Why'd you change your mind?" Doocey asked.
"I've always really admired Rick Santorum," DeWine said, "but I didn't think he could win. He was at 2% in the polls, didn't really have any money." DeWine admitted that he "bought into the idea of conventional wisdom in the fall," that Romney was going to be the nominee. But DeWine eventually discovered — at least in Ohio — that Romney had one little problem: "There's just no enthusiasm at all for him," DeWine said.
RELATED: Game Changer? Attorney General Of Ohio, Mike DeWine Drops Romney, Backs Santorum
Another problem with Romney? While DeWine said he'd make for a great President and is a good man, Santorum is likable, real, genuine, and, "has the best chance," of beating Barack Obama in the coming election. He specifically pointed out the great turnout Santorum had in Steubenville, which DeWine described as a very Democratic part of his state, and led him to believe that he could do well in traditionally Democratic parts of the country.
"What I'm seeing on the ground," DeWine said, "is tremendous energy here for Rick Santorum."
Watch a clip of the interview below, courtesy of Fox News:
Have a tip we should know? tips@mediaite.com