Mike Gallagher Defends Keystone XL Pipeline: 'We're Just Polluting A Little Bit Of Water!'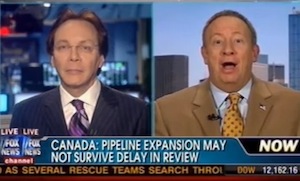 Radio hosts Mike Gallagher and Alan Colmes faced off Friday on Megyn Kelly's Fox News program and debated the Obama Administration's push back of the decision over the controversial Keystone XL pipeline project. "20,000 jobs is important except if it comes to polluting the snail darter!" Gallagher sniped. "All we've heard from both parties, Alan, is it's all about the jobs — 20,000 American jobs are being flushed down the toilet because they're going to pollute a little bit of water! Are you kidding?"
"Do you want children to have drinking water that's polluted?" Colmes fired back at the conservative radio host.
"It's offending these greenies! These kooks who are very important to the Obama re-election chances," Gallagher exclaimed. "So this is a brilliant timing on his part. Let's wait until after the election, we'll deal with all of this later, but in the meantime, as Megyn points out, 20,000 jobs may be sacrificed in the name of political expediency."
"The fact is that everything the president does by his detractors will be looked upon as some kind of political maneuver ," Colmes observed. "You have to consider the fact that this would harm the environment and they're now talking about re-routeing it, finding another place to go, another pipeline to use, and this may be just delayed, not permanently canceled."
The Obama Administration earlier explained the delay reasoning that "this permit decision could affect the health and safety of the American people as well as the environment, and because a number of concerns have been raised through a public process we should take the time to ensure that all questions are properly addressed and all the potential impacts are properly understood."
It will be interesting to see if Gallagher's snarky trashing of environmentalists will become the standard bearer of pro-pollution talking points on the cable news shows.
Watch the two radio hosts battle it out over the Keystone XL pipeline below via Fox News:

Have a tip we should know? tips@mediaite.com