Mike Huckabee Announces He Will Not Run For 2012 GOP Presidential Nomination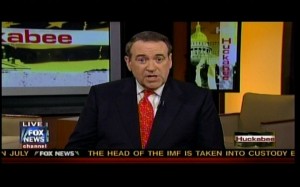 Amid reported (and denied) pressure from Fox News, former Arkansas Governor Mike Huckabee has ended the suspense, announcing Saturday night that he will not seek the Republican nomination for president in 2012. Huckabee's announcement comes on the heels of Fox News' termination of Huckabee stablemates Newt Gingrich and Rick Santorum over ethical and legal concerns about their respective presidential bids, and as if to underscore the conflict, was made on Fox's air.
Huckabee was joined by frequent Fox News guest Ted Nugent (whose deplorably violent, yet hilariously overcompensatory, entreaty for then-Senator Barack Obama to "suck on" his machine gun is apparently still a-okay with Fox) was also on hand, and shockingly declared "God bless President Obama" for the killing of bin Laden. He also jammed with Huckabee on his '70s feminine hygiene anthem, "Cat Scratch Fever."
Huckabee's announcement is the latest piece in the Fox News presidential puzzle, with only the status of former Alaska Governor Sarah Palin still up in the air. Palin's fortunes were on the wane with the ascent of Donald Trump, but now that Trump seems to have been vanquished by the one-two punch of President Obama's long-form birth certificate and the killing of Osama bin Laden, Palin has made some gains in the polls. Although several sources close to Palin say they can't gauge her decision, a weak (now Huckabee-less) Republican field (which saw their most credible candidate, Tim Pawlenty, outshone by upstart Herman Cain in the first GOP debate) could be an inducement for her to enter the fray.
Huckabee, for his part, has struck early and often at President Obama, engaging in the kind of campaigning that's sure to play well with the same base that elevated Birther General Trump, but might not play so well in a general election. However, unlike Trump, or pretty much any other Republican candidate, Huckabee has populist charm to spare. It would have been interesting to see if he could have made the pivot from primary pit bull to general election puppy-dog.
Watch the announcement via Fox New below:
Have a tip we should know? tips@mediaite.com