Mike Huckabee Gives Rick Perry A New Campaign Slogan: 'Win One For The Gaffer'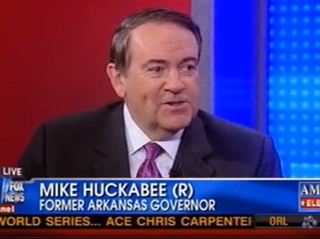 Mike Huckabee isn't especially impressed by Rick Perry's threat that he may drop out of some debates lest he make any more gaffes. Not because he doesn't understand the rigor of a presidential campaign– he has certainly been there– but because he has admitted that his campaign slowdown is an attempt to keep his image pristine. What does it say about a candidate, Huckabee asked on Fox & Friends this morning, that they admit to being unable to stop gaffing?
RELATED: Rick Perry Admits Debate Mistakes To Bill O'Reilly, Addresses Mitt Romney Feud
"You don't say that the reason you're not showing up [to debates] is that you can't handle the pressure or the heat and you might make a gaffe," Huckabee noted this morning, even if it is somewhat true. Huckabee instead offered a more respectable reason to abstain from debates: "these debates are not covering new ground; we're not covering new issues." Perry's statements, he concluded, were the equivalent of saying, "Gee, this is really hardball, isn't it?" To Huckabee, it was proof of bad campaign managing by someone down the line.
RELATED: Herman-al Velocity: Can Anything Stop Herman Cain's Momentum?
What's more, the gaffes, he concluded, are meant to go away gradually with experience. When you're playing a difficult song, Huckabee explained, "you don't put your guitar away" to perfect it. Huckabee also had some words for Herman Cain, whose campaign strategy of shaking hands in Alabama and Tennessee instead of New Hampshire and Iowa seemed, at the very least, disorganized to Huckabee, and destined to fail if it continued to ignore key states.
The segment via Fox News below:

Have a tip we should know? tips@mediaite.com