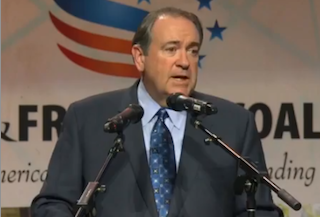 Mike Huckabee offered up a defense his anti-gay beliefs Tuesday at the Iowa Faith and Freedom Coalition's annual fundraiser. The former Arkansas governor, who won the Republican Iowa caucuses in 2008, is still contemplating another run for the presidency in 2016.
"I'm not against anybody. I'm really not. I'm not a hater. I'm not homophobic," Huckanee insisted to the conservative crowd. "I honestly don't care what people do personally in their individual lives."
But when people accuse him of being on the "wrong side of history," he tells them, "'You've got to understand, this for me is not about the right side or the wrong side of history, this is the right side of the Bible, and unless God rewrites it, edits it, sends it down with his signature on it, it's not my book to change.' Folks, that's why I stand where I stand."
Later in the speech, Huckabee said he doesn't want to be "some whacko way out there," before defending the New Mexico photographer who failed to get the Supreme Court to hear his case regarding his refusal to take wedding photos of a same-sex couple. He compared the government "forcing" that photographer to take pictures of gay couples to the hypothetical scenario of the government forcing a Muslim artist to paint a picture of Muhammed.
"Why is it that Christians stand back and take it in the teeth time and time and time again?" Huckabee asked. "But we cannot change this country if we do not rise up and vote with an informed mind and a committed spirit and if we're not willing to stand alone."
Watch video below, via CNN:
[photo via screengrab]
— —
>> Follow Matt Wilstein (@TheMattWilstein) on Twitter
Have a tip we should know? tips@mediaite.com