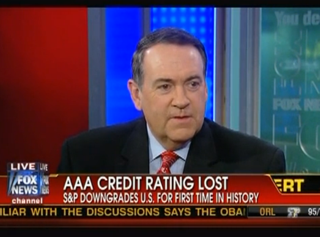 How's this for thinking outside the box? Mike Huckabee visited the cast of Fox & Friends this morning to talk about the disastrous economic downturn the nation took yesterday as its credit rating sank, and had a suggestion or two for replacing one of those upon whose shoulders lay the most blame: Treasury Secretary Timothy Geithner. Paramount among those? Donald Trump, who he suggested should be given 90 days to turn the economy around.
"He needs to go and President Obama needs to have him walk the plank," Huckabee said unequivocally of Geithner, not just because of the S&P downgrade, but because "in politics, optics is everything." According to Huckabee, the President currently "needs to give a sense of taking command" against "a progressive state of decay in the economy," and changing figureheads is a quick and easy way to make the American public feel that he is doing so. He added that he did not think there would be major changes in policy as a result.
The Fox & Friends crew then wondered, if Geithner needed to be removed, who Huckabee would like to see in his stead. Huckabee was lukewarm at best about Jon Corzine, the former Goldman Sachs CEO and New Jersey governor whose name is being thrown around as a potential replacement, but he added that "President Obama would never pick someone that I would love to see there." The sort of person Huckabee would like to see? "A true conservative– get Steve Forbes; ask Donald Trump to be Treasury Secretary." Arguing that the President "needs a game-changer," Huckabee suggested Trump should take the job for "90 days," just to see the dramatic change the nation's economy policy would take.
The Fox & Friends hosts asked Trump on air– who has his own Monday appointment with the program scheduled weekly– to call in and opine. And knowing Trump, he's not one to stay quiet for too long.
The segment via Fox News below:

Have a tip we should know? tips@mediaite.com