Mike Huckabee On The 'Very Pro-Choice' Herman Cain: 'The Damage Has Been Done'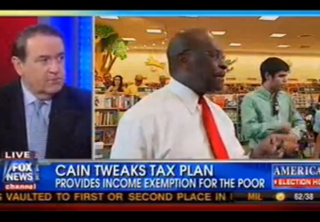 With his rise to the top tier of the Republican 2012 race, Herman Cain has seen the scrutiny of his policy positions increase dramatically, and it is his stance on (illegal?) abortion that stole the limelight and confounded voters this week. On Fox & Friends this morning, Mike Huckabee's weekly take turned to Cain, and he found the candidate's stance to be "very pro-choice" despite the backtracking– possibly too pro-choice for the people of Iowa.
Huckabee first took a somewhat skeptical look at the new provision in Cain's 999 plan that would except people under a certain income rate from the second 9% tax ("it would be 909 for poor people," Cain explained yesterday), noting that the program appears to "create winners and losers" by going district by district and exempting certain people from a plan whose appeal is that it is fair to all.
RELATED: Herman Cain Tells Piers Morgan That He Is Anti-Abortion, Yet Pro-Choice?
He then turned to the abortion comments, however– a controversy having its roots in Cain's comments on Stossel that left the host somewhat confused. He repeated those comments to Piers Morgan, who was equally perplexed by Cain's insistence that his own pro-life views did not need to be reflected in a government that he ran. Things only got more complicated when Cain went on to say on Fox News that he was so pro-choice, as far as the government's place in the abortion debate stands, that he would disregard the law in an event where a family member was legally prohibited from receiving an abortion. Needless to say, for Huckabee, this was a bridge too far.
RELATED: Herman Cain: I'm Not Pro-Choice, I'm Pro-Choice On Getting An Illegal Abortion
Calling the stance "very pro-choice," Huckabee argued that even with Cain trying to backtrack by calling himself "100% pro-life," there was little repair he could do to his comments. "The damage has been done," Huckabee concluded, particularly with religious voters and social conservatives. "He cannot win Iowa by offending them," Huckabee argued, noting that being pro-choice was far too radical a position for many voters who choose candidates based on their stances on social issues, no matter what his stances on other policy issues that come up in the campaign.
The segment via Fox News below:
Have a tip we should know? [email protected]