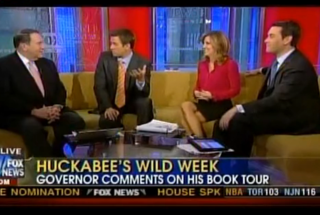 Mike Huckabee vs. Natalie Portman is somehow turning out to be the feud of the week, and in visiting the crew of Fox & Friends this morning, the former Arkansas governor revisited his comments to explain his argument was not a moral one, but an "economic" one. Giving Portman his full support and once again asserting she "deserved her Oscar," Huckabee persisted in his point that the children of single mothers are more likely to live in poverty.
Coming off of what the Fox & Friends chyron described as a "wild week" (have they not heard of Charlie Sheen?), Huckabee momentarily revisited his comment about President Obama being born in Kenya ("it was a brain slip") before tackling "the Natalie Portman incident." He made it a point of noting that it was not Portman herself he was attacking, but that he had been asked specifically his thoughts on single motherhood in the context of her pregnancy. He explained more thoroughly he problem with single motherhood as an economic issue: "when you have unwed mothers, you have a higher propensity toward lack of education, lack of ability to get a job, and their chidren are goin to live their entire lives in poverty."
F&F cohost Alisyn Camerota agreed with his general view but challenged him on why, of all people, Portman got caught up in the attack. Noting that Portman was also engaged, such that the child would grow up with two parents, she argued Portman was "a beacon of what women should do." Huckabee grumbled about having children after the marriage but nonetheless ceded the point, reiterating the poverty issue: "My point in all of this is that when we act like there is not an economic component to the choices we make."
Tackling the most beloved starlet in Hollywood is likely not the smartest move for a man who may run for president, and emphasizing that children of single parents tend to be impoverished in the context of a multi-millionaire unmarried couple will probably do little to remedy this new gaffe.
The segment via Fox News below:

Have a tip we should know? tips@mediaite.com