Mike Huckabee Says He Didn't Run For President Because Of The 'Toxic Atmosphere' In GOP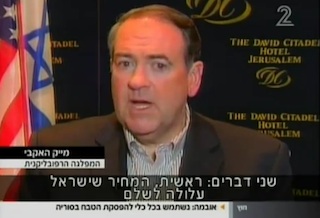 On Sunday, former Governor Mike Huckabee was in Israel and gave an interview with a local news station. Midway through the conversation, Huckabee was asked why, despite high poll numbers, he chose not to run for President. Huckabee, who announced the decision all the way back in May, explained that his choice had to do with the "toxic atmosphere" in the Party.
"A lot of it is that I think there is just such a toxic atmosphere right now, specifically in the Republican Party. I would love to say that it's going to be all about ideas and solutions, but unfortunately a lot of it is about just being able to say, 'I'm more angry at the Obama administration than somebody else.' That's not what motivates me politically or governmentally. I believe it ought to be about solutions and I hope we win, I hope we elect a lot of people to Congress. But it just wasn't the right time for me. Maybe some day it will."
Speaking of being angry at the Obama administration, most of the interview had to do with Israel's growing tensions with Iran and Huckabee's problems with the White House's response. He argued that Israel should do whatever they see fit to protect themselves and that most Americans care more about the nation's safety than whether or not it "offends this President." At one point, the Israeli anchorwoman asked Huckabee point blank whether or not he thought the administration was putting Israel "in danger."
"I believe they are absolutely," he responded.
Watch the clip below:
(h/t HuffPo)
Have a tip we should know? tips@mediaite.com