Huckabee Slams Media And 'Jerk' Brian Ross For Hassling Bachmann On Migraines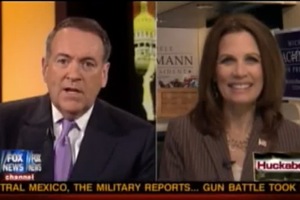 On his Fox News show last night, Mike Huckabee interviewed Republican presidential candidate Michele Bachmann and defended her from all of the "nonsense" regarding her alleged intense migraine headaches. Before talk turned to the debt ceiling, Huckabee sarcastically called her migraines a "big story" and lambasted the media for wasting so much time on it, while saving his most fiery words for one ABC News self-proclaimed "investigator."
Huckabee began by expressing his frustration with this story in particular:
"It really fries my bacon to think that the worst criticism of Michele Bachmann is that she gets headaches. Good grief the presidency is a headache. . . . I get so tired of the smug, sniffy, self-appointed saints of journalism demanding to see the medical records of a female presidential candidate because some staffer who couldn't keep up with her, decided to whine that she has headaches."
And Huckabee continued by targeting ABC's Brian Ross, who Huckabee hinted was not really a headache as much of a pain in the ass for his recent complaints:
"[I have no use for] the gumshoe wanna-be investigative reporter who thinks he smells a story. What he usually smells is his own foul self. Brian Ross, the ABC reporter who fancies himself a real investigator, leapt onto the stage to confront Congresswoman Bachmann to demand that she answer his questions and then got upset when some of her staffers treated him like the inconsiderate jerk he can be."
Bachmann was pleased to hear Huckabee's overall critique, that "no candidate is required to help load a gun pointed at their own head" and that the press does not have a "divine right" to have every question answered. With that side issue out of the way, Bachmann returned to discussing the debt ceiling and urged President Obama to "stop scaring people about default," and thought it was "amazing" that Obama still has not put forth a plan of his own.
Huckabee suggested Obama's lack of executive experience has been to blame for many of his problems, and smartly asked Bachmann why she would be qualified for the presidency without much of the same experience? In an interesting and convenient pivot, Bachmann concluded Obama's problem wasn't an experience issue, he was "simply wrong on the issues."
Watch the clip below from Fox News:

Have a tip we should know? tips@mediaite.com