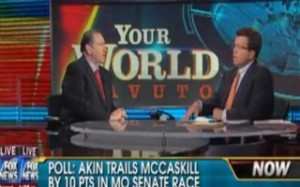 Former Arkansas governor and radio personality, Mike Huckabee, appeared on Fox News Channel with Neil Cavuto on Friday to defend Missouri Senate candidate Todd Akin. Huckabee said that the party is being unfair to the Missouri Congressman. He also said the GOP is squandering an opportunity to frame Akin's comments as a battle over right to life issues, which he believes the party can win on as easily as they can on economic issues.

RELATED: Todd Akin To Hold Press Conference At 5:15 EDT
Huckabee said that Akin apologized for his remarks and he should be forgiven for them. He went on to say that, on abortion issues, the nation is closer to Akin's position than then are to President Barack Obama and Akin's opponent, Sen. Claire McCaskill (D-MO).
Huckabee went on to say that it's difficult to ask a candidate who has spent the past two years fighting to win a primary to drop out right after victory.
"Do you think the party has been unfair to him," asked Cavuto.
"I do," replied Huckabee. "This can be a teachable moment. It's not that this is unrecoverable." He advised the party to make abortion issues a central point in the Missouri Senate race.
"She doesn't want him to drop out," interrupted Cavuto.
"I'm sure she doesn't," said Huckabee. "She didn't want him, probably you know, to drop in."
Cavuto asked Huckabee for his opinion on how the social conservative movement was dealing with the way in which conservative pundits and lawmakers alike have turned on Akin and publicly sought his withdrawal from the Missouri Senate race.
"I think there's great disappointment because there was such a chorus – an orchestrated chorus that went after him," said Huckabee. "This was a public humiliation. And I think it created a real conflict."
Huckabee said that the GOP could have taken the opportunity that Akin's comments presented to create a contrast between the Republican party and the Democrats on the issue of life. Cavuto challenged that Akin's comments did not present the GOP with any opportunities.
"Well, he didn't get to direct the news coverage," replied Huckabee.
Watch the segment below via Fox News Channel:
> >Follow Noah Rothman (@Noah_C_Rothman) on Twitter
Have a tip we should know? tips@mediaite.com