Mike Huckabee Suggests Obama's Libya 'Lies' Worse Than Nixon: 'Nobody Died In Watergate'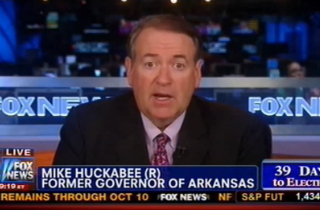 Appearing Friday morning on America's Newsroom, former Arkansas Gov. Mike Huckabee suggested that the Obama's administration's "lies" about the U.S. consulate attack in Libya are worse than Richard Nixon's cover-up of the Watergate scandal in the early 1970s.
Huckabee explained a FNC poll that finds a majority of people believe Mitt Romney is more likely than Barack Obama to "take the lead" on world events, by saying it has to do with the recent embassy attacks in the Middle East.
"Let's get blunt," he said, "no way to sugar coat this. We have been flat-out lied to. They know they lied. As if airplanes crashing into the World Trade Center were just accidents. Anybody with two eyes and IQ of plant life knows what happened in Libya was not spontaneous reaction to a 13-minute video on YouTube. It was a planned orchestrated attack led by terrorists."
The former governor then likened Obama to a previous president: "Richard Nixon was forced out of office because he lied. And because he covered some stuff up. I will be blunt and tell you this: nobody died in Watergate. We have people who are dead because of this. There are questions to be answered and Americans ought to demand to get answers."
Co-host Bill Hemmer asked Huckabee to confirm that he is comparing these recent events to the Watergate scandal.
"I sure am," replied Huckabee.
"This White House has been discredited and its credibility, certainly the promises of transparency, have been completely decimated by their actions," he went on to conclude.
"Very strong language, but I know you've thought about this," Hemmer responded to close the segment.
Watch below, via Fox News:
— —
>> Follow Andrew Kirell (@AndrewKirell) on Twitter
Have a tip we should know? tips@mediaite.com