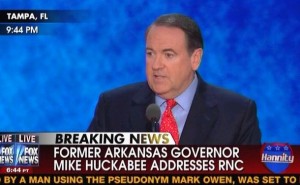 Former Arkansas governor and current Fox News host Mike Huckabee delivered a passionate speech at the Republican National Convention tonight that hit on social issues and family values more than any other speech so far at the GOP gathering. Huckabee opened with a self-deprecating joke about how he would be received at the convention, quickly turning to his strong criticisms of President Obama and his support of Mitt Romney, telling the crowd that he cares "far less about where Mitt Romney takes his family to church than about where he takes this country."
After an awkward joke about DNC Chairwoman Debbie Wasserman-Schultz, Huckabee acknowledged his former rivalry with Romney in 2008, and said that Obama is to thank for uniting former Republican rivals at this critical time for the party. He claimed that Obama saying "You didn't build that!" was just code for "It doesn't rightly belong to you!" Huckabee accused Obama of spending too much time in office campaigning and attacking Republicans.
Huckabee contrasted Obama's policies, which he argued would continue churning out food stamps, with Romney's, who Huckabee claimed would create jobs that would render food stamps unnecessary. He spoke highly of his former rival and of their mutual desire to reign in the federal government.
Huckabee then turned to an issue he acknowledged he needed to "clear the air" about: How could an Evangelical like him support a Republican ticket without an evangelical candidate? He referred to Obama as "the only self-professed Evangelical" on either ticket, and made it clear he has almost nothing in common with the president. Huckabee spoke about what issues of faith should be important in the election.
"This isn't all about contraceptives and Catholics, but about conscience and the creator. Let me say to you tonight, I care far less as to where Mitt Romney takes his family to church than I do about where he takes this country."
Huckabee got in a dig at Vice President Joe Biden for not giving as much money to charity as Romney does, and added that Democrats saying Obama deserves credit for trying "sounds like the nonsense of giving every kid a trophy for showing up!" He reminded the crowd that Obama was given a Nobel Peace Prize "for what he would potentially do, but in the real world, you get the prize for producing something, not just promising it."
Watch Huckabee's full speech below, courtesy of Fox News:
—–
Follow Josh Feldman on Twitter: @feldmaniac
Have a tip we should know? tips@mediaite.com
Josh Feldman - Senior Editor