Mike Lee Opens Up About 'Demeaning,' 'Unfair,' 'All Out Attack' On Him And Ted Cruz By GOP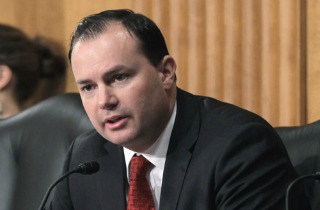 In an interview with conservative radio host Hugh Hewitt, Sen. Mike Lee (R-UT) opened up about a closed-door meeting he recently had with the Republican Senate colleagues in which both he and Sen. Ted Cruz (R-TX) were "attacked." Lee said that the terms used by his fellow Republicans to attack the two Senators were "demeaning." He asked why, given that the details of the meeting were leaked to the press, that his GOP colleagues did not reveal their identities.

"There was allegedly a Republican Senate Conference meeting earlier this week where your colleague, Ted Cruz, took a lot of slings and arrows," Hewitt said.
"Normally, I don't comment at all on closed-door meetings between Republican Senators," Lee said. "It's a pretty strict rule we have."
However, Lee disclosed, the facts of that meeting was already revealed to the press. "It was an all-out attack against Ted Cruz and me," Lee disclosed. "It was unflattering. It was unfair. It was demeaning."
"It was demeaning to Senator Cruz and to me, but more than anything it was demeaning to those who engaged in the attacks," he added.
Lee refused to disclose which Republicans rose to attack him in that closed door meeting, but said that it was enough so that he "lost count." He added that he was not clear why the Republicans who attacked him and Cruz did not reveal their identities.
"Did anyone rise to your defense," Hewitt asked.
"Sort of," Lee replied. "Not really."
After the break, Hewitt asked if anyone apologized. Lee said that there were, but not the individuals who were leveling the attacks. He refused to identify particular individuals.
Hewitt revealed that the GOP base is happy with Lee and Cruz's actions. Lee agreed, but noted that the "Establishment" is not thrilled with them.
Lee concluded by saying that it was unlikely that a "clean CR" would be put to a vote in the House, and he would not vote for one in the Senate.
Listen to the clip below via The Hugh Hewitt Show:
[Photo via AP ]
— —
> >Follow Noah Rothman (@NoahCRothman) on Twitter
Have a tip we should know? tips@mediaite.com