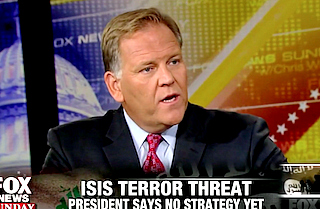 House Intelligence Committee Chairman Mike Rogers (R-MI) told Fox News Sunday's Chris Wallace that President Barack Obama's statement that he had "no strategy" yet with regard to ISIS was characteristic of a hobbled foreign policy.
"We find it consistent with his past policy and actions on foreign policy," Rogers said. "It exemplifies that his foreign policy is in absolute free fall. You look at China, ISIS, Russia, Iran, North Korea — we have a serious host of problems presenting itself, and our traditional allies are now standing up and saying maybe America is not the best ones to lead us through the troubles."
RELATED: NBC's Jansing Challenges Rep. Rogers: Is There Actual Intelligence ISIS Is Threat to U.S.?
Rogers said that American inaction had metastasized the problems in the Middle East.
"We had our Arab League partners show up and say help us deal with this. They weren't asking for troops; they were asking for intelligence, coordination, helping lead the effort in which folks to vet to give money in Syria and at least some strategic guidance in the region. The president rejected that. That was his decision. And we watched it progressively get worse. So our Arab League partners decided we're going to have to do this on our own. It was uncoordinated, not through the best intelligence, and it helped in an odd way the very people we're going to have to face today."
Watch the clip below, via Fox News:
[Image via screengrab]
——
>> Follow Evan McMurry (@evanmcmurry) on Twitter
Have a tip we should know? tips@mediaite.com