Mike Tyson Reveals Details Of His Drug Use On Fox & Friends, Reminds Brian Kilmeade He Could Still Take Him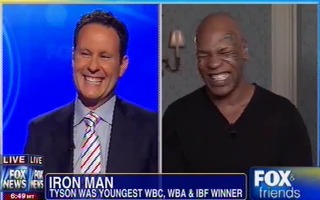 In a promotional appearance for his touring one-man show, former heavyweight champion Mike Tyson appeared on Fox & Friends with Brian Kilmeade on Thursday. Kilmeade interrogated Tyson about his period as a drug user, even as recently as during The Hangover films, and quizzed Tyson on his interest on getting back into the ring. The jovial Tyson joked that he would not, but was clear that he could still take on Kilmeade.

Kilmeade asked Tyson about his cameo appearances on The Hangover films, specifically about his admission that he was abusing drugs at the time of those films. Kilmeade said that few but Tyson's inner circle knew that he was doing drugs heavily during that period. "When did the drug use start and when did you realize this was a problem you had to tackle," Kilmeade asked.
"I can't believe nobody in my inner circle knew I was getting high. I was getting high with people in my inner circle," Tyson joked.
Kilmeade asked if Tyson would ever get in the ring again, but the champion said he had no interest in restarting his fighting career.
"No way," Tyson said. "To fight, I have to have that same state of mind – that I'm the baddest man on the planet. And if I was that guy, I could never be married. My wife would hate my guts. My kids would hate my guts."
"I don't want to fight no more. I want to make people laugh and stuff," Tyson said.
Kilmeade decided to try his luck with the kinder, gentler Mike Tyson. "Think I could take you right now," he asked.
"I don't think so," Tyson replied laughing.
Watch the clip below via Fox News Channel:
> >Follow Noah Rothman (@Noah_C_Rothman) on Twitter
Have a tip we should know? tips@mediaite.com