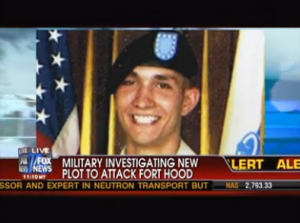 AWOL soldier Pvt. Nasser Jason Abdo was taken into custody today by Killeen Police Department after someone called in to report a "suspicious" individual near Ft. Hood, a military installation that became the site of a mass shooting in November of 2009.
A spokesperson for Ft. Campbell, where Abdo had been stationed prior to going AWOL, said the soldier was also being investigated for child pornography discovered on his government computer. Abdo had applied for conscientious objector status the day before he was due to deploy to Afghanistan, but was denied his request by Ft. Campbell officials.
A representative for Fort Hood clarified that Abdo had not been at Fort Hood at the time of his arrest:
We are aware at this time that Killeen Police Department arrested a soldier yesterday. The incident leading to the arrest did not occur on Fort Hood and the soldier was not a Fort Hood based soldier. At this time, there has been no incident at Fort Hood. We continue our diligence in keeping our force protection at appropriate levels.
Abdo will likely face charges later today.
National security correspondent Jennifer Griffin joined Fox News from the Pentagon this afternoon to discuss the arrest. According to Griffin, Abdo was arrested while attempting to buy weapons and explosives at the same store where the suspected Ft. Hood shooter bought guns for his attack two years ago. Griffin mentioned that Abdo is a Muslim who was in possession of radical jihadist literature and bomb-making materials. Fox News also showed video of an interview Abdo gave to Al-Jazeera following his attempt to apply as a conscientious objector.
Watch Fox News' segment on the arrest:
Have a tip we should know? tips@mediaite.com