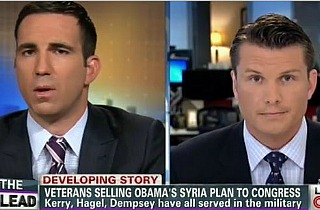 On Friday, two military veterans joined CNN host Jake Tapper where they debated over the options President Barack Obama has available to him as he contemplates intervening in the Syrian civil war. Neither veteran expressed a high degree of confidence in Obama's approach to the Middle East, but while one veteran believed that intervention carries with it too high a cost, the other believed that sacrificing America's credibility by doing nothing was worse than facing the unknowns that will follow intervention.

Tapper began the segment by quoting Maj. Gen. Robert H. Scales (Ret.) who wrote in The Washington Post on Thursday that the military is presently "embarrassed to be associated with the amateurism of the Obama administrations attempts to craft a plan that makes strategic sense" for intervention in Syria.
"It's hard, but it's not going to work," said Jon Soltz, a veteran, co-founder of VoteVets.org, and volunteer for John Kerry's 2004 presidential campaign when asked about the administration's proposed intervention in Syria. "He's going to cross the red line again. This isn't going to work, and then we're going to have the same conversation all over, except with a further argument over intervention of U.S. forces into the conflict."
"I am as reluctant as you can be about this," said Pete Hegseth, an Iraq and Afghan War veteran. He said that Obama's handling of Middle East policy is why "we have such bad options."
"For me, our credibility as a nation is our president's credibility," Hegseth added. "The president called it a very limited but decisive action. What the heck is that? You can't have a limited and decisive action – it's not possible.
RELATED: Obama Admits Syria Reluctance at G20 Press Conference: 'I Was Elected to End Wars, Not Start Them'
"There's coherence and my support is purely because I believe our country, when we say we're going to do something it has to mean something," he concluded.
"The Obama administration is very clearly making veterans the face of this policy," Tapper told Hegseth. "Do you feel comfortable with that as a veteran?"
He said that veterans, like himself, are "very conflicted" over the proposed action in Syria. He agreed with Soltz, however, in that even limited intervention could snowball and draw in ground forces which he opposes.
"You can literally drive truck through this Senate bill and it completely gives the president authority to put ground troops into Iraq – or into Syria – that would conduct operations," Soltz said.
"At the end of the day, our credibility is at stake," Hegseth concluded, "and we better keep it very, very narrow."
Watch the segment below via CNN:
[Photo via screen grab ]
— —
> >Follow Noah Rothman (@NoahCRothman) on Twitter
Have a tip we should know? tips@mediaite.com