Miss America Teresa Scanlan Visits Fox & Friends, Has Strong Opinions About WikiLeaks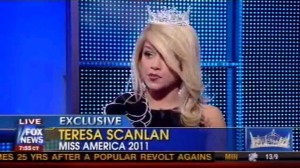 Miss America 2011 Teresa Scanlan paid a visit to the set of Fox & Friends this morning to talk about her win and her goals for the coming year. As it turns out, Scanlan has proven that she's not only a young woman with firm opinions, she's rather rather adept at expressing those opinions clearly, be they about the nature of the Miss America competition… or WikiLeaks.
Co-host Gretchen Carlson, herself a former Miss America winner, asked 17-year-old Scanlan a fairly hardball question about the award: How is a competition like Miss America still relevant in 2011? Scanlan answered that America, while grounded in realism, needs a healthy dose of idealism as well, and this is exactly what the competition provides.
Interestingly, Fox & Friends mentioned at least twice that Nebraska-born Scanlan – who hopes to become a prosecutor, then a judge – is a "homeschooled Conservative Christian." The AP, meanwhile, adds that Scanlan plans to register as Independent when she turns 18.
Scanlan's political beliefs may have played a part in how she answered the question posed to her during the ceremony – something just a wee bit tougher than "Do you love world peace?" or "Aren't baby horses cool?" Scanlan's question: "Everybody's talking about the Wikileaks, how do we balance people's right to know with the need for government security?" Her response:

Miss America Teresa Scanlan Visits Fox & Friends:

You know when it came to that situation, it was actually based on espionage, and when it comes to the security of our nation, we have to focus on security first and then people's right to know, because it's so important that everybody who's in our borders is safe and so we can't let things like that happen, and they must be handled properly.
We've seen a bit of a backlash to Scanlan's response on other blogs, but nowhere near the polarized response to a certain other beauty queen's controversial – and much, much less articulate – opinions.
Have a tip we should know? tips@mediaite.com