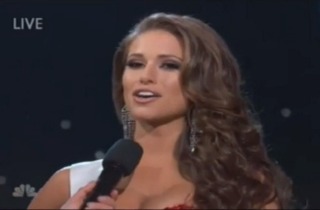 Breaking: Miss Universe contestant answers a complicated question with platitudes and clichés.
During the aforementioned beauty pageant Sunday evening, Miss USA Nia Sanchez was asked by boxer Manny Pacquiao what she would say to "global terrorists" if she were given 30 seconds with one.
"I would say, that, you know, as Miss USA, I can only say I'd spread a message of hope and love and peace," she replied. "And so I would do my very best to spread that message to them and everyone else in the world."
Naturally, viewers took to Twitter to mock Sanchez, because that's how these things work in 2015. Here's Fox News contributor and former Miss New York Joanne Nosuchinsky:
Wow. World peace. As a pageant answer. Not ironic at all. #MissUniverse

— Joanne Nosuchinsky (@JoNosuchinsky) January 26, 2015
And more:
#MissUniverse #MissUSA just bombed her question about terrorism. lol.

— #teamCDOT (@CdotJudge) January 26, 2015
miss USA said she would try to spread love and hope to terrorists. yes, if only we would've tried offering love and peace to ISIS

— jaime (@bloodfl0wers) January 26, 2015
#MissUniverse #MissUSA's answer was a little too ambitious! "Hope and love and peace", beautiful words but can they tackle terrorism? No!

— Hasmeet Kaur (@IAmPerseverant) January 26, 2015
Others mocked both the question and answer:
Yep. I'm sure ISIS would be soooo interested to hear what Miss USA has to say about their campaign of global terrorism. #MissUniverse

— Andre Louis (@dre_lou) January 26, 2015
More reaction here.
And the Q&A below, via NBC:
— —
Have a tip we should know? tips@mediaite.com