Missing Malaysian Plane Brings Out the Worst in the Media
Rothman: Missing Malaysian Plane Brings Out the Worst in the Media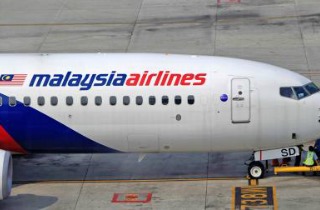 Malaysian Airlines Flight MH 370 is still nowhere to be found, and new revelations regarding its disappearance are hard to come by. That has not given cable news networks and political bloggers pause when they fuel the public's morbid fascination with what feels like a science fiction plot come to life.
Undoubtedly, the most reckless offenders have been those who populate CNN's airwaves with 24-hours of content. That network has devoted virtually every block of every newscast to the story surrounding the missing plane since it disappeared, and the word "story" was never more apt to describe their ongoing investigation.
Mediaite's Matt Wilstein put together a helpful smash cut of CNN reporters and hosts asking the audience to forgive their wild speculation regarding the plane's whereabouts before engaging in it. This abdication of broadcasters' responsibility is not these hosts' or reporters' fault. They have been forced to turn CNN into a 24-hour plane search network in order to maintain the ratings bump this story provided the network, and speculation is all that is left when the facts have been thoroughly scoured.
But the flailing effort to find a new angle on the missing plane story finally reached the absurd and embarrassing over the weekend when Reliable Sources host Brian Stelter, after noting the wild ratings boost his network had enjoyed with their wall-to-wall plane coverage, invited a psychologist to discuss the psychological impact this plane's disappearance may be having on a plane-saturated public.
"The idea that people can vanish is in some ways even more terrifying than death," said psychologist and Today show contributor Gail Saltz. "It leaves you open to whatever your worst fantasies about that might be."
And "fantasies" was the correct word to use in this case –- the titillation a viewer might experience in a controlled environment that simulates horror, like a movie theater or a roller-coaster. And this would be an acceptable observation save that 239 real lives appear to have been lost in this ongoing horror.
But CNN had more irresponsible coverage of this mystery in store for viewers. On Monday, CNN host Don Lemon invited two guests on to ponder the imponderables of existence regarding this missing plane. That's right. Host and guests alike waded into the world of the "supernatural" in the search for explanations as to where this plane went.
"People are saying to me, why aren't you talking about the possibility — and I'm just putting it out there — that something odd happened to this plane, something beyond our understanding?" Lemon asked.
"People roll their eyes at conspiracy theories, but what conspiracy theories do is they ask the hardest, most outrageous questions sometimes, but every once in a while they're right," replied thriller writer and History Channel host Brad Meltzer.
"I'm not one of those believers that aliens came down or anything like that, but," he continued, "how does a jet-liner with 200 people on it just disappear?"
It's safe to say that a cable news network should be able to go out on a limb and rule out aliens right off the bat.
CNN's not alone in going off the rails with their coverage. But while the network has veered into the realm of the absurd, some of Fox's personalities have gone reaching into the well of Tom Clancy plots in the search for answers.
News Corp CEO Rupert Murdoch took to his twitter on Friday to speculate on the whereabouts of the plane, noting that it has been "effectively hidden" and may have been stashed away in "Northern Pakistan, like Bin Laden."
He echoed a theory posited on Fox & Friends earlier that day when retired United States Air Force Lieutenant Gen. Thomas McInerney said that it was clear the plane was hijacked and possibly sent to Iran or Pakistan. "I could envision that terrorists could use it, fill it up with explosives, attack a U.S. aircraft carrier," he said. "Put a nuclear weapon – a prototype on it – hit Israel, the United States."
Perhaps the worst commentary surrounding the plane did not come from a cable news network, but from a supposedly respectable left-leaning opinion journal. In The New Republic this weekend, New York Magazine contributing editor Geoffrey Gray revealed his Jason Bourne fantasies when he revealed that he hopes the families of those missing 239 do not find loved ones anytime soon. Gray divulged that, in an age when electronic surveillance seems inescapable, he was warmed by the notion that an object like a loaded 777 can, even temporarily, evade detection:
Wherever the Malaysia Airlines plane is, it found a hiding place. And the longer it takes investigators to discover where it is and what went wrong, the longer we have to indulge in the fantasy that we too might be able to elude the computers tracking our clicks, text messages, and even our movements. Hidden from the rest of the world, if only for an imagined moment, we feel what the passengers of Flight 370 most likely don't: safe.
There's no excuse for any of this speculation from sources which ostensibly report or opine on events. All of it is designed to capture eyeballs, enhance ratings, and drive advertising revenue. The press should aspire to higher standards than what we've seen in the last ten days. The press' mandate is to debunk myths and rumors, not to feed them.
[Photo via AP]
— —
> >Follow Noah Rothman (@NoahCRothman) on Twitter
Have a tip we should know? tips@mediaite.com