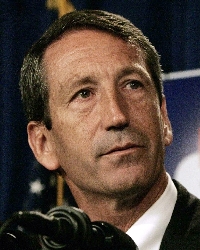 In one of the strangest twists to the Gov. Mark Sanford story, The State has new details about the days leading up to Sanford's "affair" announcement that rocked/excited the media world.
The Washington Post's Chris Cillizza reached out casually via email (asking Sanford's communications director, "Dude, is everything ok?"). A "Fox News correspondent" did as well.  So did Stephen Colbert. Personally.
But before we get to him let's deal with the FNC side of the story. The State didn't name the Fox News "correspondent," but we've got the details.
Mediaite has learned the Fox News "correspondent" who reached out to the missing Governor was Griff Jenkins, whose reporting mainly consists of ambushes of various kinds. Jenkins is a features reporter (and a producer), rather than a hard news correspondent.
In the email, Jenkins wrote: "Having known the Governor for years and even worked with him when he would host radio shows for me – I find this story and the media frenzy surrounding it to be absolutely ridiculous! Please give him my best." This was, of course, sent before Sanford himself admitted to the truth.
The confusion over the seriousness of what happened was echoed in Colbert's email. In a tongue-in-cheek note to the Governor's communications director, Colbert downplayed what happened as he pitched Sanford to be a guest on The Colbert Report. "If the Governor is looking for a friendly place to make light of what I think is a small story that got blown out of scale, I would be happy to have him on," wrote the fake news guy, just hours before the real story broke.
Who knew Colbert should have been included in Mediaite Oddsmakers?
The State's piece today illustrates what everyone already assumed – Gov. Sanford kept everyone, including his staff, in the dark over his whereabouts, surprising even his friends about the Argentinian love affair (or "love story," as Sanford insisted it be called in the AP interview). It only makes the news conference, which sounded like a big story at the time, that much more huge.
—–
• Follow Steve Krakauer on Twitter
Have a tip we should know? tips@mediaite.com