Mission Accomplished: Obama's Base-Rallying Speech 'Relieving' for MSNBC's Alex Wagner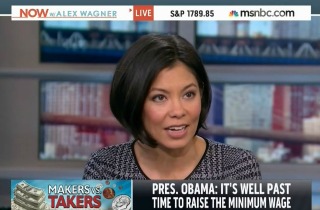 There should be no doubt that President Barack Obama's White House has been and remains singularly focused on shoring up their support among a nervous and defeated Democratic base. Since the Affordable Care Act ran into a brick wall the minute it debuted, Democrats have been on the defense and grassroots liberals are increasingly questioning whether this is the right hill. Like nothing else, this has inspired a crisis of confidence within Democratic ranks.

I've written about the administration's panic-driven base mobilization tactics, their only strategic focus since early November, extensively. And yet, some stalwarts content themselves with the deluded notion that Obama is speaking to all Americans. If you believe that a week which begins with Obama delivering a warmly received address to the members of his Cabinet, followed by another speech to the Center for American Progress, and capped off by an interview with MSNBC's Chris Matthews before a live audience of college students, is anything other than a play to the Democratic base, I've got some affordable health insurance to sell you.
RELATED: Poll: Are Democrats Abandoning Obamacare?
With the obvious aside, it appears that the president has been successful in his effort to bring the once faithful back into the fold. Following a sprawling speech to CAP where he touched on every progressive theme in the book – ranging from "income inequality," to raising the minimum wage, to extending national early education to all children – the base appears sufficiently jazzed.
For evidence of this effect, look no further than MSNBC's barometer of liberal enthusiasm, Alex Wagner, who positively glowed at the conclusion of the president's multidirectional promissory note to progressives.
"I think for a lot of us who stood on the sidelines and watched as this White House muddled through the last two month, it was actually incredibly relieving to see the president put the ACA, that is a huge puzzle piece, but part of a larger infrastructure, if you will, around economic security and upward mobility," Wagner opined.
"I thought that was great and, again, relieving," she continued. "And what he said about Republicans and put them on defense for the first time in a long time, which was if you don't like these ideas, what is your plan?"
She directed this question at Obama campaign veteran Bill Burton who assured Wagner that the president was moving the needle of public opinion in the progressive direction.
Watch the clip below via MSNBC:
[Photo via screen grab ]
— —
> >Follow Noah Rothman (@NoahCRothman) on Twitter
Have a tip we should know? tips@mediaite.com