Missionary Re-Position: Mitt Romney Looks Forward To 'Occasional Vacations' In France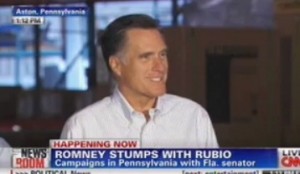 While campaigning with Sen. Marco Rubio (R-FL) in Pennsylvania today, presumptive Republican nominee Mitt Romney waxed nostalgic over his days in France, not over his Vietnam-era missionary work, but of vacations spent in the European jewel, and of vacations he hopes to spend there. Romney was attacked by rival Newt Gingrich over his French connection, but what effect will this luxury-mongering (in stark contrast to his proscription on "elaborate vacations" for presidents) have on general election voters?
Romney told a reporter ""I have a lot memories of France," adding, "The best memories were with my wife on vacations from time to time in France. The last vacation we had there, walking around the city of Paris, and walking, not just the Champs-Élysées but also over to the Jardin (pronounced JAR-din) of Luxembourg and around the city…one of the most magnificent cities in the world. And I look forward to occasional vacations again in such a beautiful place."
For what it's worth, Romney avoided saying "Frahhhnce," or the correct French pronunciation of "Jardin," which we know he's capable of, but otherwise, couldn't have sounded more like the Monopoly Guy's bastard child with Scrooge McDuck.
Republican non-inee Newt Gingrich (R-Denial) tried to woo the "Freedom Fries" conservatives by attacking Romney's French-y proclivities during the primaries, but now that he's the nominee, the France stuff won't mean anything to them. Republicans would turn out for Pepe LePew if it meant getting rid of Barack Obama. The out-of-touch rich guy narrative, though, might resonate with the handful of independents who decide every election, or these idiots could just as easily think "I want to be rich too! Let me vote for that guy!"
There's also the matter of Romney's constant demonization of Europe, which gives his longing for France an Animal Farm/pigs eating bacon flavor (mmm…bacon). He doesn't want America to be like France, he just wants to escape America to go to France whenever his schedule allows him to. One of the few pleasures of a Romney presidency will be to hear how Fox Nation spins his frolics on the Côte d'Azur, after haraguing the Obamas for vacationing above their station. This despite the fact that, the last time anybody checked, the President lagged well behind his GOP predecessors in vacay days.
Here's Romney's comment, via CNN:
Have a tip we should know? tips@mediaite.com