Missouri Lt. Gov.: Nixon Bowed to Pressure from Obama and Holder to Not Send National Guard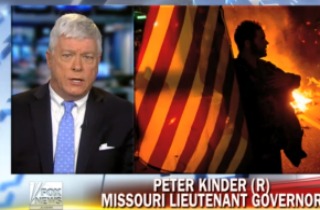 Missouri Lt. Gov. Peter Kinder (R) criticized Gov. Jay Nixon (D) Tuesday morning for not deploying National Guard troops overnight, when the most violent protests and looting were happening, and slammed Nixon for not being more engaged, speculating as to whether he bowed to pressure from President Barack Obama and Attorney General Eric Holder in waiting until the morning to deploy troops.
Fox host Martha MacCallum asked Kinder how the protests could have gotten so out-of-hand given the preparations made over the past week, and Kinder came out firing at the governor.
"You know how an executive differs from a member of Congress? You actually have to do something. It is not enough to stand at a press conference and mouth some lines that are prepared. You have to actually act. What the vast majority of Missourians are asking this morning is … where were [the National Guard] last night?"
Kinder also speculated that the reason the National Guard was not in Ferguson last night was because the Obama Administration "leaned on" Nixon to "keep them out."
"I cannot imagine any other reason why the governor who mobilized the National Guard would not have them in there to stop this before it started," Kinder added.
He went on to say that he would have announced the grand jury decision at 6 a.m. this morning. Kinder also said Nixon is not communicating with other state government officials, saying he sent a staffer down the hall to Nixon's office to "inquire about a brief," but still had not heard anything.
"I'm not one for negotiating with violent protestors and terrorists," Kinder added.
Watch the video below, via Fox News:
[h/t Business Insider]
[Image via screengrab]
— —
>>Follow Andrew Desiderio (@forza_desiderio) on Twitter
[Note: Mediaite intern Andrew Desiderio is a student at The George Washington University.]
Have a tip we should know? tips@mediaite.com