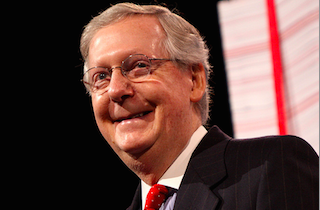 An audio recording from remarks Senate Minority Leader Mitch McConnell (R-KY) made last week while campaigning at a local company in his home state reveals his feelings about equal pay for women, which has become a major issue for his Democratic opponent Alison Lundergan Grimes. In McConnell's view, since there are "a ton of women CEOs now running major companies," the issue of pay equity has been mostly solved.
Answering a question for a constituent about what he can do to help Kentucky women, McConnell said "we've come a long way" when it comes to pay equity. With those female CEOs and more women graduating from college then men, he said, "I could be wrong, but I think most of the barriers have been lowered."
He called any argument that Republicans are "hostile" towards women "nonsense," but expected his opponent to make them anyway. "I don't think that agenda or exploitation for political purposes makes any sense," he said.
"I don't grant the assumption that we need to sort of give preferential treatment to the majority of our population, which is, in my view, leading and performing all across the — Maybe I'm missing something here," he continued. He said Lundergan Grimes' efforts "to convince people that women should vote for her because she's a woman" won't work because women and men in Kentucky care about the same issues.
As Mother Jones pointed out Tuesday, female CEOs make up just 4.8 percent of those running Fortune 500 companies and men still generally pull in higher salaries than women across most of the economy. Earlier this year, McConnell was one of 44 Republicans to vote against the Paycheck Fairness Act.
Reacting to McConnell's remarks, Senate Majority Leader Harry Reid (D-NV) reportedly called his words "shocking" and "troubling," comparing them to George W. Bush's famous "Mission Accomplished" declaration regarding Iraq in 2003.
Listen to audio below, via Mother Jones:
[Photo via Flickr/Gage Skidmore]
— —
>> Follow Matt Wilstein (@TheMattWilstein) on Twitter
Have a tip we should know? tips@mediaite.com