Mitch McConnell: Nuclear Option Doesn't 'Distract from Obamacare,' It 'Reminds' Voters of It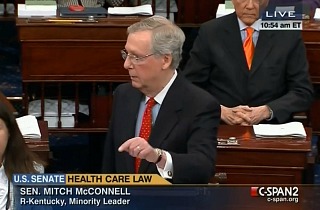 On Thursday, Senate Majority Leader Harry Reid (D-NV) prepared to pursue the "nuclear option" that would change the rules of the Senate to prevent minority members from mounting filibusters to block President Barack Obama's judicial nominees. Senate Minority Leader Mitch McConnell (R-KY) responded to this maneuver on Thursday by chastising Democrats in the Senate for attempting to "change the subject" from the problematic Affordable Care Act roll-out.

"Over the past several weeks, the American people have been witness to one of the most breathtaking – breathtaking – indictments of big government liberalism in memory," McConnell began. "And I'm not just talking about a website. I'm talking about the way in which Obamacare was forced on the public by an administration and a Democratic-led Congress that we now know is willing to do and say anything – anything – to pass the law."
He said that the Democrats in Congress and the White House were so "desperate" to pass health care reform that they resorted to deceptive tactics designed to mislead the public.
RELATED: Harry Reid Railed Against Nuclear Option in 2005 He Embraces in 2013
"The stories we're hearing on a nearly daily basis range from heartbreaking to comic," McConnell added. "So, yeah, I'd probably be running for the exit, too, if I had supported this law."
"I'd be looking to change the subject," he continued. "Just as Senate Democrats have been doing with their threats of going nuclear in changing the Senate rules on nominations."
"But here's the problem with this latest distraction," McConnell asserted. "It doesn't distract people from Obamacare, it reminds them of Obamacare."
"It reminds them of all the broken promises," he concluded. It reminds them of the power grab. It reminds them of how Democrats set up one set of rules for themselves and another for everybody else."
McConnell ended by noting that this latest maneuver is consistent with "a party that will do and say anything to get its way."
Watch the clip below via C-SPAN 2:
[Photo via screen grab]
— —
> >Follow Noah Rothman (@NoahCRothman) on Twitter
Have a tip we should know? [email protected]