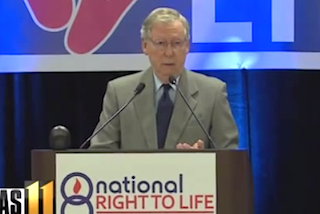 If Senate Minority Leader Mitch McConnell (R-KY) wins reelection this fall and Republicans take back the Senate from Democrats, he will likely become Senate Majority Leader Mitch McConnell. The senator reminded potential voters of this fact over the weekend when he spoke at the National Right to Life Convention in Louisville, Kentucky.
"I'm proud of my record and defense of life. If I was majority leader, we'd already have had a vote on it in the Senate," McConnell said, referring to legislation on abortion rights. "It's long past time for us to join the ranks of most other civilized nations to protect children past 20 weeks in the womb."
McConnell also criticized the current Senate Majority Leader Harry Reid (R-NV) for refusing to bring a bill limiting abortion rights to the floor. "The majority leader, whoever that person is, has the prerogative to schedule what we do," he said. "I don't know about you, but the guy you're looking at might be a better scheduler."
McConnell's Democratic opponent Alison Lundergan Grimes has said she is "pro-choice down the line on abortion" and opposes a ban on abortion after 20 weeks.
Earlier this year, she said, "I would never pretend to tell one of my sisters what to do with their body and I don't want the federal government doing that either… When it comes to choice, I believe, should a woman have to make that decision, it's between herself, her doctor, and her God."
Watch video from the conference below, via WHAS-TV:
[h/t National Memo]
[Photo via screengrab]
— —
>> Follow Matt Wilstein (@TheMattWilstein) on Twitter
Have a tip we should know? tips@mediaite.com