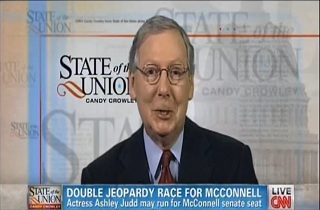 Senate Minority Leader Mitch McConnell responded to racial attacks on his wife, former Secretary of Labor Elaine Chao, from a liberal Kentucky based Super PAC on CNN's State of The Union this morning.
McConnell told CNN's Candy Crowley that he is ready for any candidate and
"I must stay has started early, a left-wing group down here in Kentucky already issued racial slurs against my wife and already questioned my own patriotism, so the left is fully engaged down here in Kentucky. They would love to take out the republican leader of the senate," he said.
Crowley asked McConnell about the attack, specifically the offending tweet from Progress Kentucky.
"Well, it's happened before. The chairman of the Democratic Party a few years back engaged in the same kind of thing. My wife is a proud Chinese-American. As you know, she was secretary of labor during the Bush administration. Her family escaped from the communists in mainland China, made their way to America and lived the American dream. For that racial slurs by Democrats in Kentucky, it goes with the turf at home, we expect a spirited race. There's a lot of left wingers around the country who believe 2014 race in Kentucky is the only race of national significance and they would love to take out the Republican leader of the Senate. We'll be ready for them," said McConnell.
What about a 2014 challenge from actress and Democratic activist Ashley Judd?
"We'll see who they nominate and we'll be happy to run against whom ever they have chosen," said McConnell.
Watch the clip below via CNN.
Have a tip we should know? tips@mediaite.com