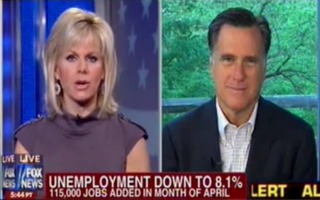 Former Massachusetts Gov. Mitt Romney appeared on Fox & Friends on Friday to discuss the latest jobs and report – the labor report put seasonally adjusted unemployment down to 8.1 percent as 115,000 new jobs were added in April. Romney said that the unemployment rate went down because more workers are leaving the workforce and that this represents a "terrible and disappointing report."

RELATED: Blogger R.S. McCain Burns Mitt Romney And About 30 Other Bloggers From Secret Meeting
"8.2 percent unemployment to 8.1 percent. 115,000 jobs created — 115,000 instead of 160. Is that the number we should be looking at or the unemployment rate," asked co-host Gretchen Carlson.
"We should be seeing numbers in the 500,000 jobs created per month. This is way, way off from what should happen in a normal recovery," said Romney. "The reason you're seeing the unemployment rate go down is because you have more people dropping out of the workforce than you have getting jobs. It's a terrible and disappointing report this morning."
Romney said the American people are wondering why the recovery seems to be slowing down and not speeding up. "This is not progress," said Romney.
When asked if Obama can rightfully campaign on a reduced unemployment rate, Romney said that he thinks "the American people know their lives are not better than they were three and one half years ago."
"This is the longest period of high unemployment that we've seen since we started collecting these records back in 1948," said Romney. "It's a terrible record and it shows that the President's policies have simply not worked."
Carlson said that while the economy was a major issue for voters, "another thing might be foreign policy." She asked Romney about the status of blind Chinese dissident Chen Guangcheng who has been the subject of a diplomatic row between the United States and China over the past week. "Is this going to be the face of foreign policy, this Chinese dissident, as we move forward towards the election," asked Carlson.
Romney said that he was happy that the United States remains a symbol of freedom for democracy activist like Chen around the world, and "as Mr. Chen sought freedom he came to the U.S. Embassy, and we should be proud of that," said Romney.
Carlson asked Romney to respond to the controversial resignation of openly gay foreign policy advisor Richard Grenell this week which has sparked criticism of Romney and Grenell from the right as well as the left.
"We wanted him to stay with our team," said Romney. "He's a very accomplished spokesperson and we selected people not based upon their ethnicity or sexual preference or gender but based upon their capability." Romney said that many members of his team attempted to get him to remain with the campaign, but their efforts failed.
Watch Romney address unemployment numbers via Fox News Channel:
Have a tip we should know? [email protected]