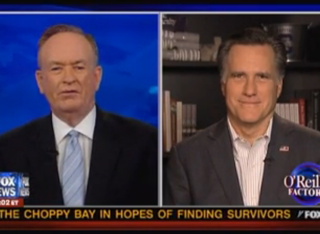 Mitt Romney earned himself two victories last night that solidified him once again as a frontrunner, and tonight paid a visit to Bill O'Reilly to discuss how he saw the battle for the nomination coming and whether he was prepared for attacks from Team Obama. Romney noted that attacks were both helpful and hurtful to his campaign in the primary and both attacked and defended super PACs, and left O'Reilly shocked that he had not previously mentioned that he gave much of his parents' inheritance away.
RELATED: Mitt Romney's Victory Speech: 'We Didn't Win By A Lot, But We Won By Enough'
O'Reilly first asked Romney whether he believed the argument many of his supporters make, that the Democrats are more worried about running against Romney than any other candidate. "Well, that's what Michael Moore said," Romney replied, adding that this was not just common talk among Romney supporters, but among some on the left, too.
O'Reilly then turned to comments by Maureen Dowd that "it doesn't matter who you are, Obama is going to blow you out of the water," simply because the primary has been so vicious. "This is what the chattering classes say," O'Reilly noted, "but what gets me is that John McCain is saying it, as well." Romney argued that McCain's point on super PACs having a negative impact on the campaign process "is right," possibly being the first non-Buddy Roemer Republican candidate to come out against super PACs. He followed that up by defending super PACs. "I can tell you that I recognize that down the road we're going to get attacked by a billion-dollar Obama machine," he noted, and the attacks in the primary toughened his campaign up. "If you are attacked by someone, it doesn't make you better off," he added later, "but on the other hand, it makes you stronger."
O'Reilly shifted gears a bit after this discussion, turning to the portrayal of Romney as "condescending to the folks." To help with countering that, O'Reilly asked Romney to explain what he did with his parents' inheritance. "What my parents gave us when they passed away, I gave away," Romney said, with no explanation, which confused O'Reilly. "Why didn't you say that in a debate?" he asked repeatedly, noting that many viewers probably had no idea. "You don't want to look like you're patting yourself on the back," a timid Romney replied, though in the explanation of what Romney gave that money away for surfaced why, perhaps, he didn't want people to know: a large amount of it went to Brigham Young University, to establish the George W. Romney Institute of Public Management."
The interview ended with O'Reilly noting that he had spoken to both Romney and President Obama and found that the media was unfair to who they both were at their core, perhaps the nature of covering someone in as synthetic a climate as a presidential election.
The segment via Fox News below:

Have a tip we should know? [email protected]