Mitt Romney Blasts Obama Open Mic Comment: Russia 'Number One Geopolitical Foe' Of U.S.
Romney Blasts Obama Open Mic Comment: Russia 'Number One Geopolitical Foe' Of U.S.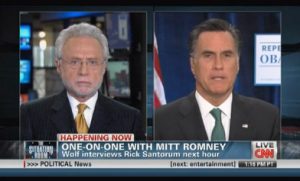 In what will surely be packaged and replayed as as "yet another" presidential candidate's gaffe all throughout the week (And we have months to go, people! Months!), Mitt Romney referred to Russia as the United State's "number one geopolitical foe" after being asked by CNN's Wolf Blitzer to weigh in on President Obama's "hot mic" moment from earlier.
"There's something very wrong" with what the President told Russia's Dmitry Medvedev, said Romney:
RELATED: Caught On Hot Mic: Obama Tells Russian President He Needs 'Space,' Will Have 'Flexibility After My Election'
It is alarming, it is troubling. The agreement that the President put in place with regards to nuclear weapons is one which I find very, very troubling already. The decision to withdraw our missile defense sites from Poland put us in greater jeopardy, in my view. The actions he's taken so far — which he says are to reset relations with Russia — have not worked out at all. Russia continues to support Syria, supports Iran, has fought us with the crippling sanctions we wanted to have the world put in place against Iran. Russia is not a friendly character in the world stage, and for this President to be looking for greater flexibility, where he doesn't have to answer to the American people in his relations with Russia, is very, very troubling, very alarming. I am very, very concerned. I think the American people are going to feel the same way. This is a President who is telling us one thing and doing something else, and is planning on doing something even more frightening.
As for what would constitute as something "more frightening," Romney ventured to guess it may have something to do with nuclear weapons. He then characterized Russia as "without question, our number one geopolitical foe."
"They fight every cause for the world's worst actors," he added.
Blizter followed up by asking Romney if he really thought Russia was a bigger U.S. foe than, say, Iran or North Korea.
"Well, I'm saying in terms of a geopolitical opponent," he replied, adding that a nuclear Iran or possibly a nuclear North Korea would actually constitute the overall worst threat.
Have a look, via CNN:
Have a tip we should know? tips@mediaite.com