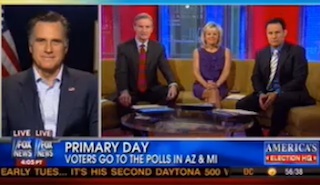 On the morning of the Michigan primary, Republican hopeful Mitt Romney ripped into Rick Santorum on Fox and Friends for using robocalls to ask Michigan Democrats to vote for the former Pennsylvania Senator.
"It's a dirty trick." Romney said. "It's outrageous to see Rick Santorum team up with the Obama people and go out after union labor in Detroit and try to get them to vote against me. Look, we don't want Democrats deciding who our nominee is going to be. We want Republicans deciding who our nominee is going to be. I know why Obama doesn't want me to face him, but I think it's outrageous and disgusting. A terrible, dirty trick. At the last hour, by the way, late in the afternoon on the day before the election, maybe hoping no one would notice, they start sending out calls to Democrats — union members — telling them to go into the Republican primary and vote against Mitt Romney. This is reminiscent of the dirty tricks in the past and it's got to end and I think Rick Santorum has a lot of explaining to do."
RELATED: Chris Christie: If Romney Loses Michigan, GOP May Have Brokered Convention
Co-host Gretchen Carlson explained that Santorum excused reaching out to Democrats as he would need them in the general election.
"What he's doing is asking Democrats to come in the Republican primary and vote against me. That's what he did." Romney continued. "Teaming up with Barack Obama's people, they're running ads here as well against me. This is — this is a new low for his campaign… and that's saying something."
Watch the segment below via Fox News:

Have a tip we should know? tips@mediaite.com