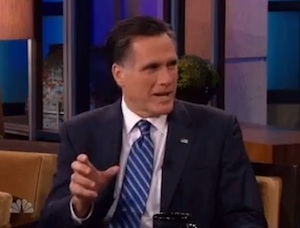 On Tuesday night, Republican hopeful Mitt Romney stopped by NBC's The Tonight Show to chat with Jay Leno and was asked what he thought about Rick Santorum slamming him, yet later saying he would be open to being vice president, all in the same week.
"Well, you know, you're on all the time when you're running for office," Romney observed. "Everything you say is being followed by, you know, a small camera of some kind that someone has. You don't always get every word just right. And so you have to give people a little bit of slack, I think. In this case, Rick Santorum is a good guy, he's running a good campaign. We have some differences in background and differences on some issues, but basically a good guy and, you know, I'm happy with him saying he'd like to be part of an administration with me. Nothing wrong with that, if he's the VP, that's better. I'd rather be the president, let him be the vice president."
RELATED: Santorum Responds To 'Bullsh*t' Outburst On CNN: Romney Campaign 'Fed The Line To All The Reporters'
Following that revealing exchange, Leno kept Romney on his toes with a word association game, asking what he thought of Chris Christie, whom the former Massachusetts Governor described as "Indomitable. … A man of strong will, great strength."
Leno snarked he was a "man of girth."
"If you attack Chris Christie, you're going to get more than you bargained for," Romney replied. "He comes back strong."
Leno then fired off a few more names.
For Marco Rubio, Romney said: "The American dream."
Paul Ryan: "Creative."
Nikki Haley: "Energetic."
Donald Trump: "Huuuuuge."
And finally, of his chief rival Santorum: "Press Secretary."
Boom!
Watch a clip of Romney's appearance on The Tonight Show, below:
h/t NY Daily News
Have a tip we should know? tips@mediaite.com