Mitt Romney Defends Romneycare: 'Will Do What I Think Is Right For The People I Represent'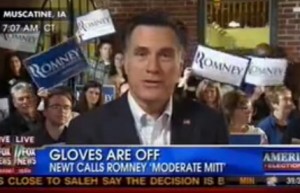 GOP hopeful Mitt Romney made a guest appearance on Fox & Friends Wednesday morning, and hit on everything from his growing feud with Newt Gingrich to his record of conservatism as governor of Massachusetts.
Romney added a bit of a soft touch on Gingrich's inability to get on the ballot in Virginia by explaining why he compared Gingrich to Lucille Ball.
"We all make mistakes and sometimes our campaigns can't get things done quite right. I don't compare those mistakes to Pearl Harbor. When I see mistakes, I try and find a little humor. In this case, Lucille Ball in the chocolate factory….Those of us who have gotten a little behind can identify with poor Lucy."
Host Steve Doocy then asked if Romney, who is on a bus tour, will be making any Honeymooners references, which led Romney into one of the most wooden Ralph Kramden imitations the world has ever seen.
"One of these days, Alice, one of these days. Pow. Right to the moon. Yeah."
This seemed like the perfect time to segue into a Gingrich clip that challenged Romney to a face-to-face debate. Romney deftly scooted around it by saying that they've already had 10 to 12 debates, and have two more in January. "If it comes down to this, the two of us, at some point, we will debate person to person. But right now, there are a bunch of folks in this race," Romney explained. "Newt and I are not necessarily number one and number two across the nation, so we're going to have to narrow it down and see where it leads us."
RELATED: Newt Gingrich Challenges Mitt Romney: 'Be Man Enough' To Accept One-On-One Debate
With the one-on-one debate now scuttled, the topic moved to charges that Romney isn't conservative enough to please the Republican base. He rattled off a list of his conservative achievements done while Governor of Massachusetts, then addressed Romneycare, a provision that Gingrich actually applauded in a 2006 newsletter.
"I knew that he supported the plan in the past. And I believe he supported it until he got into the race this year, but maybe before that he changed his view. But look, our plan was right for our state. And in my view, it was based upon conservative principles that, frankly, came from Newt Gingrich and the Heritage Foundation… The plan is not perfect, there are things that I'd change in it, but I'll stand by the things we've done."
Romney then added: "I will do what I think is right for the people I represent."
Watch a clip of the interview with Romney, live from a coffee shop in Iowa, below, courtesy of Fox News:
Have a tip we should know? tips@mediaite.com