Mitt Romney: 'Disappointing' For Obama To Politicize Bin Laden Raid By Mentioning Me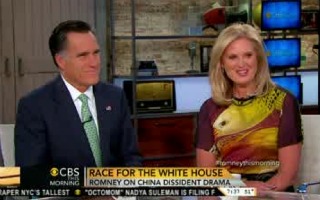 Republican presidential hopeful Mitt Romney visited the set of CBS This Morning on Tuesday, accompanied by his wife, Ann Romney. Anchor Charlie Rose asked Romney to comment headline-making back-and-forth with President Barack Obama and his campaign on whether Romney would have approved the raid on Osama bin Laden's compound.
When asked about Romney's response to a new campaign ad ("Even Jimmy Carter," Romney had said, would have gone after bin Laden), the President replied that "I just recommend that everybody take a look at people's previous statements in terms of whether they thought it was appropriate to go into Pakistan and take out bin Laden." He had been referring, most likely, to Romney's 2007 comment that "I do not concur in the words of Barack Obama in a plan to enter an ally of ours… I don't think those kinds of comments help in this effort to draw more friends to our effort."
RELATED:Mitt Romney bin Busted: 'Candidate Like Myself' Would Have Done Bin Laden Raid (Except 2007 Mitt)
Did Romney believe, Rose asked, that the Obama campaign's ad — featuring former President Bill Clinton — worked to "politicize" bin Laden's killing?
"Well, as I said at the time," Romney responded, "when the announcement was made about Osama bin Laden having been killed, I congratulated the President and the intelligence community as well as, of course, SEAL Team Six for their extraordinary valor in carrying out this direction. so I acknowledged the President's success and think he has every right to take credit for him having ordered that attack I think it was. It was very disappointing for the President to try to make this a political item by suggesting that I wouldn't have ordered such a raid. Of course I would have. Any American, any thinking American, would have ordered exactly the same thing."
Watch, via CBS:
Have a tip we should know? tips@mediaite.com