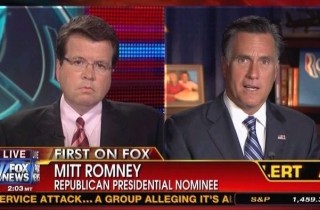 Mitt Romney appeared on Neil Cavuto's Fox News show Tuesday afternoon in the wake of controversy over hidden video camera footage that shows the Republican presidential candidate saying slightly controversial things to a private gathering of donors.
Cavuto asked Romney to address the Obama administration's claim that, in the video, Romney "Disdainfully wrote off half the nation."
"We were talking about a campaign and how he is going to get close to half the vote," Romney responded, "and I'm going to get half the vote. I hope I will get 50.1% or more."
"Frankly, we have two different views about America," he continued. "The president's view is one of a larger government. There is a tape that came out where is the president is saying he likes redistribution. I disagree."
Cavuto then asked about Romney's "inelegant" wording in the video, noting that some have said Romney has "kissed half the electorate goodbye" for essentially calling them "moochers." The candidate's response:
No, I'm talking about a perspective of individuals who I'm not likely to get to support me. I recognize that those people who are not paying income tax are going to say, 'Gosh, this provision that Mitt keeps talking about lowering income taxes,' that's not going to be attractive to them. And those that are dependent on government and those that think government's job is redistribute — I'm not going to get them.
He continued on to explain that "I don't expect to get 60 to 70-percent of the vote. I understand some portion will be the president's, some portion will be mine. I've got to get as many as I can from every single cohort in this country."
Romney then clarified, once more, what he meant by his controversial "47-percent" remarks on the hidden camera video: "The intent I want to talk about was the fact you have a great divide about whether we want a government that is larger and more intrusive and redistributing income or instead you want to have government protecting freedom and opportunity and letting more people build more wealth."
Earlier today, Donald Trump said that Romney has nothing to apologize for in these videos, as he has long encouraged the campaign to "get tough" with its rhetoric. Romney said "I always appreciate his counsel," and then went on to explain again the differences between his and President Obama's visions.
When asked for comment on the fact that President Jimmy Carter's grandson may have played a role in the leaking of the tapes, Romney flatly said: "I'm not too concerned about the source."
"This is a message I'm carrying day in and day out and will carry," he concluded. "This is a decision about the course of America."
Watch below, via Fox News:
— —
>> Follow Andrew Kirell (@AndrewKirell) on Twitter
Have a tip we should know? tips@mediaite.com